Courtney Elkins has had a long career in specialty retail – including selling teen apparel, maternity, lingerie, as well as health and wellness.
She worked briefly for a medical cannabis operation, but then enthusiastically worked in and respected the adult intimacy retail industry, sometimes called "adult" or "erotic" shops. While she found a passion and was fulfilled by her work, she envisioned herself eventually getting back into the cannabis industry. Today, she's the director of retail for Sunday Goods, adult-use cannabis retail products. 
In this interview, Courtney tells us:
How she was drawn to the fast-paced nature of the cannabis industry

About similarities between the adult and cannabis industries

How to help customers feel more comfortable in a retail experience for products sometimes stigmatized 

Why she thinks working in cannabis is the most magical experience, but not for the faint of heart
"At the end of the day, we sell happiness and relief. You'll never drive home from this job and not know you didn't change someone's life."

– Courtney Elkins, Director of Retail at Sunday Goods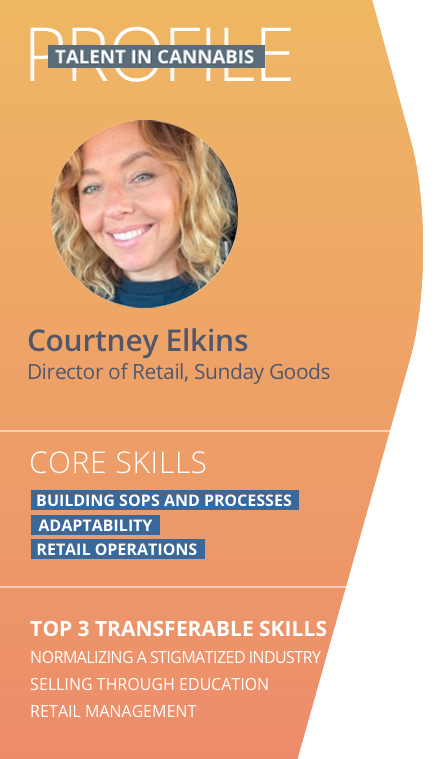 BEFORE CANNABIS
What were you doing before working in cannabis?
I was director of retail for Fascinations, a multi-state line of sensual health and wellness shops in the adult intimacy industry. Our mission was to improve people's intimate lives through education and service. We aimed to break down stereotypes about the people who work and shop in adult stores. The biggest indication of our normalizing efforts was realized when we were granted a retail space that shared a wall with Target!
What did you like about working in the adult intimacy industry?
It was always obvious when it was a woman's first time in our store – the nerves, embarrassment, and unwillingness to talk right away. As soon as they saw the smile of the associate waiting to talk with them, they would say things like, "Wow, I didn't think women would be working here." 
When people think of sex shops, many people think of dark and dingy stores where creepy men lurk. That's not what our brand was. We worked to make shopping for adult products a "normal" experience. We helped couples, men, and especially women feel empowered by speaking up for their needs in an intimate arena. I didn't realize how impactful my role would be. I loved that job so much and always said I'd never leave the position – unless it was for the right cannabis company. 
THE CANNABIS JOURNEY
What drew you to the cannabis industry?
Before I worked in the adult industry, I spent about seven months as district manager of a fleet of medicinal cannabis stores throughout Arizona. It was my chance to take what I had learned from all the key leaders in my career and build something from the ground up. I put processes into place, developed standard operating procedures (SOPs), and helped transition the business into standardized traditional retail. For me, building a brand and the speed of the cannabis industry was addicting.
But after that first cannabis job, I took the role in an adult store, Fascinations, and spent three years there. I really connected with the brand and the service piece – I never imagined myself leaving. Then, Aisha Alves, FlowerHire Executive Cannabis Recruiter, reached out to me about the opening at Sunday Goods. At first, I said no. Luckily, she was persistent. And since I always told myself I'd never leave my job unless it was for cannabis, I felt like it was my chance to get back into cannabis.
I resonate with cannabis because of it's ever-changing and fast-paced nature. Just when you think you have control over something, it changes, and you have to redirect and course correct. 
Tell us about your current role as director of retail and Sunday Goods.
I'm just under 90 days in as director of retail for Sunday Goods in Arizona. It's the same position I held in my last role. I oversee all retail operations including sales, inventory, purchasing, and compliance. We also just added a visual merchandising manager to the team to create overall brand consistency and elevate the customer experience. 
Even though we've been operational for several years, we still have the start-up feel because we're always developing and improving the ground rules and processes. 
I'm proud to be part of an organization that truly lives its name – Sunday Goods. Our mantra and hashtag is #feelsundaygood. We provide quality products and education to our customers. Even at our corporate offices, the goal is always to make everyone feel good. We're a disruptive cannabis company that's challenging stigmas and stereotypes. Sunday Goods is a dominant player in the Arizona market, and we can't wait to continue our path of growth.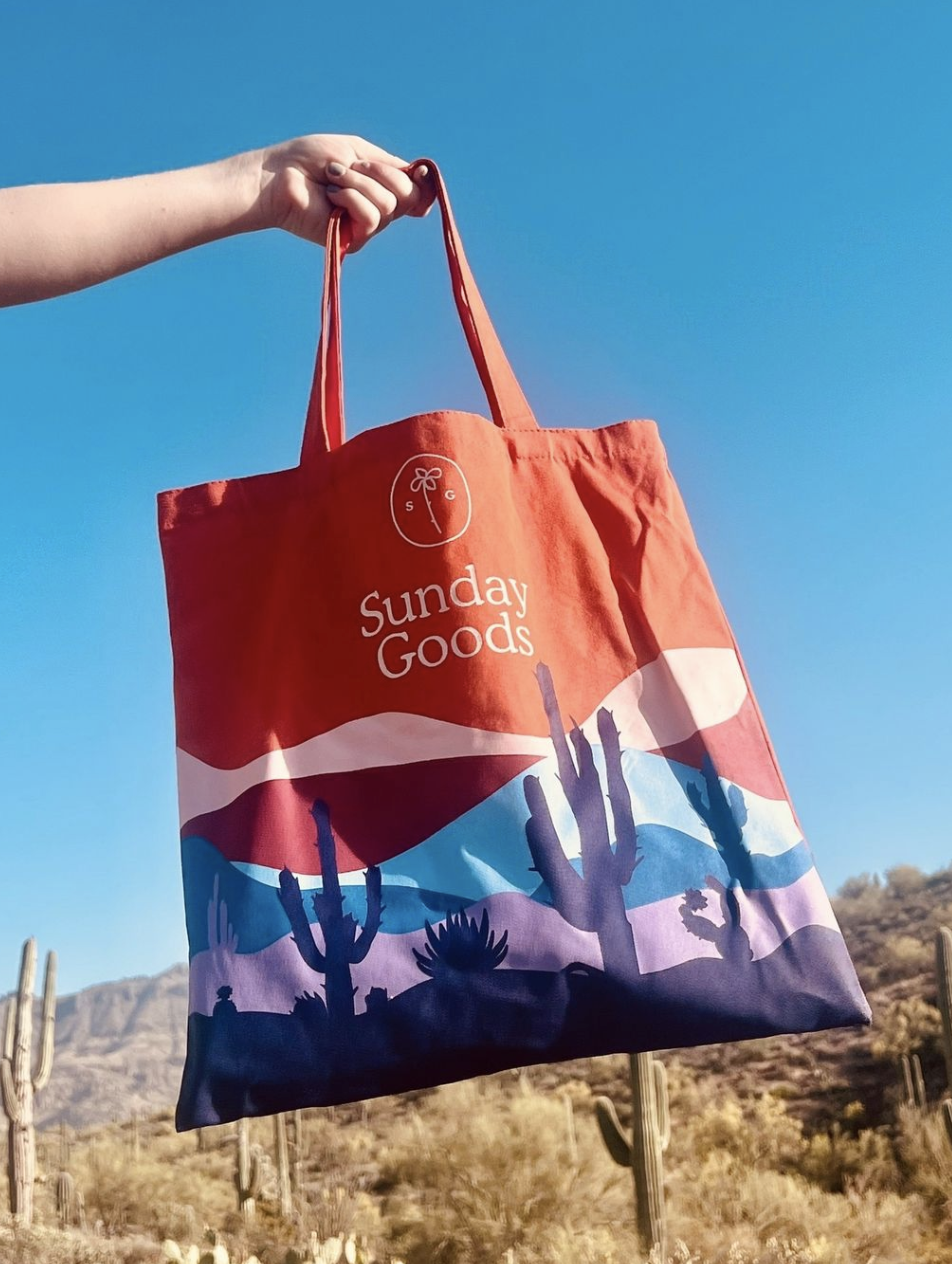 THE TRANSITION
What skills transfer from adult fascinations to the cannabis industry?
Cannabis and adult intimacy spaces share a similar stigma. There are assumed stereotypes of people who work there, shop there, and use the products. But at the end of the day, in both industries, these products do not discriminate and are not made for a specific type – just those who want to feel good! 
Breaking that stigma is all about the way you talk about it. At Fascinations, we would always get compliments from customers leaving the store like, "Thank you for making this so normal." Talking about it openly and insisting it's normal – since it is  – makes others feel more comfortable. 
In both cannabis and at Fascinations, we're selling happiness and relief. The goal is to get to know what your customer needs. You do this by just listening and then putting the right product into their hands. Your impact on a customer's life is immeasurable just by listening. 
How do you break down that barrier and help the customer feel more comfortable?
At Fascinations, we would combat "Oh, I'm just looking" with playful responses like, "Okay, well, we love to talk about it. So I'm going to let you look around for a few minutes then I'll circle back and answer any questions that you have." As soon as retail associates say "we love to talk about it" the wall would instantly come down and the customer would begin to open up.
In cannabis, it's a little different. It's less that customers are scared to talk about it and more that they're unsure and need more information about it. Many customers are fed up with pharmaceuticals and are looking for new solutions. With so many new ways to consume, the fear arises around not knowing what a product does. Some people fear edibles or are intimidated by concentrates. There's a big focus on educating people on different products and what they do. We focus on meeting the customer where they are at and finding the best product for them.
What's one thing that everyone transitioning into the cannabis industry should know?
I think cannabis is the most magical experience, but it's just not for the faint of heart. You'll do as much work in one month as other industries do in one year. The cannabis industry is constantly changing, so you have to move with it. There are a lot of cart-before-the-horse-type scenarios. It's like a beautiful history-making spectrum of chaos. 
Do you have advice for other people who are starting their journey in the cannabis industry?
I'd say the first 30 days are probably the hardest. Even just learning the language is a feat in itself. Always be a student and commit to learning something new every day. Be humble, forget your title, and learn from everyone – the employees on the frontline with our customers teach me the most. 
Again, at the end of the day, we sell happiness and relief. You'll never drive home from this job and think you haven't changed someone's life for the better.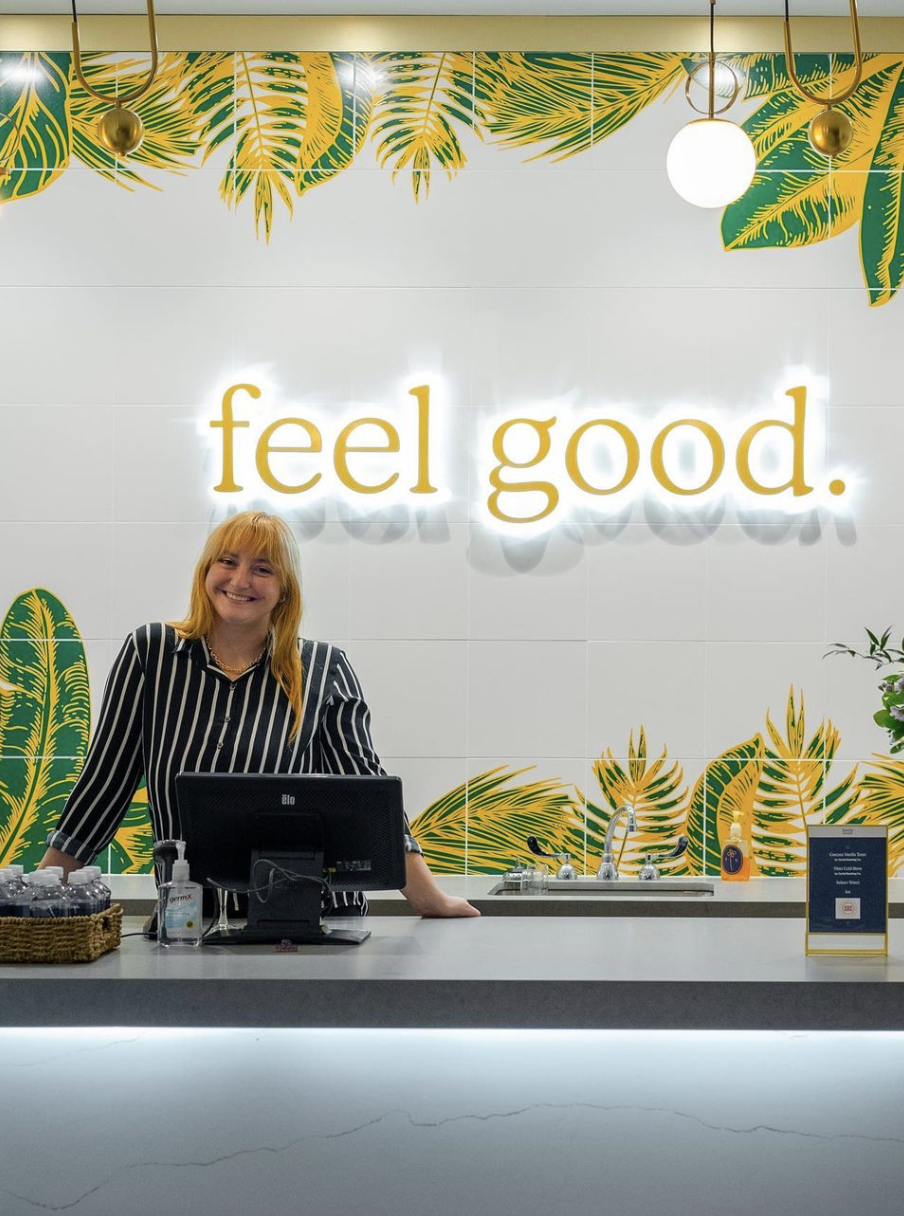 THE FUTURE
What are one or two things you'd like to see change in the cannabis industry?
I'd like to see fewer gray areas and more defined structures. There are so many intelligent, influential people who came to cannabis from all types of industries – I think we have the opportunity to define what an industry standard is.
Where do you see your career going?
There's no end in sight for me. I really believe in cannabis. The sky's the limit. I envision that 20 years from now, we are a department inside your local grocery store or Target. That is the true evolution of cannabis for me – accessibility. I really love what I do, and I can't imagine doing anything else.
Are you looking to start a career in cannabis? Create a profile at CareersinCannabis.com and check out these blog posts:
Connect with one of FlowerHire's expert cannabis recruiters.