Hilary Black has been fighting cannabis prohibition in support of the rights of medical cannabis patients for nearly 3 decades.  She is a spokesperson, responsible for stakeholder relations, growing the medical market, transitioning consumers into the regulated market, sustainability, diversity, equity, and inclusion. She started as a grassroots, civilly-disobedient activist in Vancouver, Canada, and her career led her to become the Chief Advocacy Officer at Canopy Growth Corporation. Her background as an industry pioneer garnered consumer loyalty as she brought authenticity and credibility to the company's reputation. 
She has spent virtually her entire working life advocating for medical cannabis patients. She changed the course of legal cannabis in Canada through advocacy, activism, government relations, media, PR work, and capacity building. Her career choices have prepared her to be a purpose-led leader passionate about patient advocacy, DEI sustainability, and the cannabis plant and its vast benefits. She's experienced in creating value for companies through these critical functions. 
We were lucky enough to connect with Hilary and hear about her journey.
"I want to work with people who have similar values around social justice, and climate change. I love emerging markets, transitioning patients into using medical cannabis, and drawing consumers from the unregulated to the regulated marketplace.

"

 

– Hilary Black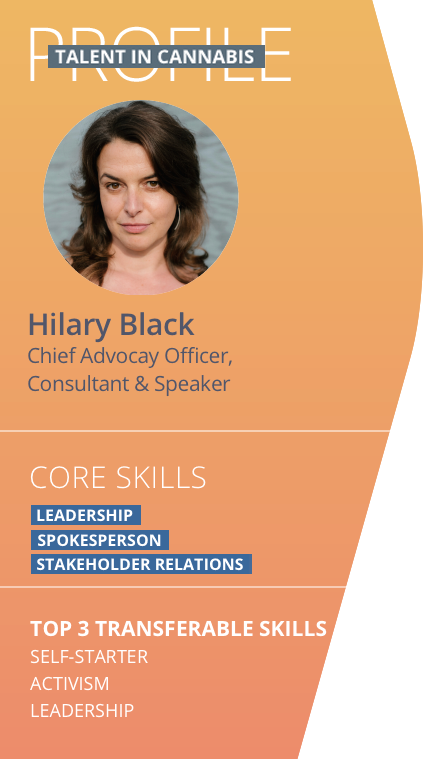 From grassroots advocacy to C-suite leadership
What got you interested in the cannabis industry?
I went on a Grateful Dead tour for nine months as soon as I graduated high school. On the tour, I learned all about hemp for fuel, fiber, and fabric. I learned that cannabis is medicine and can help save the planet.
When I came back to Vancouver in 1995, the first hemp store in Canada opened in Vancouver. And I was fascinated. I started showing up and volunteering until they eventually hired me to manage the store. We were the first shop in Canada to publicly sell cannabis seeds —resulting in the store being raided and my first arrest. 
At the time, the hemp shop was very edgy – taking big risks. We let people consume cannabis in the store and it was the first time in Canada that public consumption of cannabis was openly allowed and encouraged at a business. 
Many patients and elderly folks were coming to the store looking for information and access to medical cannabis. To meet the growing demand, we started a delivery service with a bicycle, backpack, and a pager. I was doing distribution mostly to people who were living with cancer and  HIV/AIDS. Back then, antiretroviral medications were as likely to kill you as the disease.

Working where cannabis is legal – Amsterdam
I spent a year living and working in Amsterdam. I worked at a place called Positronics, which is very historical in Amsterdam,  a community center for Dutch growers. They sold equipment, and seeds, and had a huge clone nursery and a cafe. I distributed hash and grass, learning what it felt like to retail cannabis in a normalized culture.  
Proposition 215 passes in 1996
When Proposition 215 passed in 1996, I moved to California to learn how the medical cannabis industry was being developed. Then, I came home to Vancouver and started The Compassion Club, a cannabis dispensary and wellness center that operated for 27 years. It was the first in Canada. I rented office space, set up the tools I needed to operate, and developed the protocols for onboarding patients. 
There was a group of very politically active gay men living with HIV and AIDS, who brought me under their wing, connected me to the right politicians and physicians to garner the support I needed, most importantly they gave me courage. They were willing to protest themselves if anything happened. They were the wind beneath my wings. 
The Compassion Club distributed medical cannabis and grew to have 10,000 patients. We used the proceeds of the cannabis distribution to support a wellness center so our clients could access counselors, herbalists, acupuncturists, massage therapists, and addiction specialists. The wellness center was a shield of credibility. It gave the organization tremendous legitimacy with health care professionals, local police, and all levels of government.
I went to court many times to defend our growers when they were raided. Those court cases became the cornerstone of the case law that supported many significant medical cannabis challenges. Eventually, medical cannabis became legalized in Canada through the courts. 
Article and interview in 1997 with Hilary Black about the Compassion Club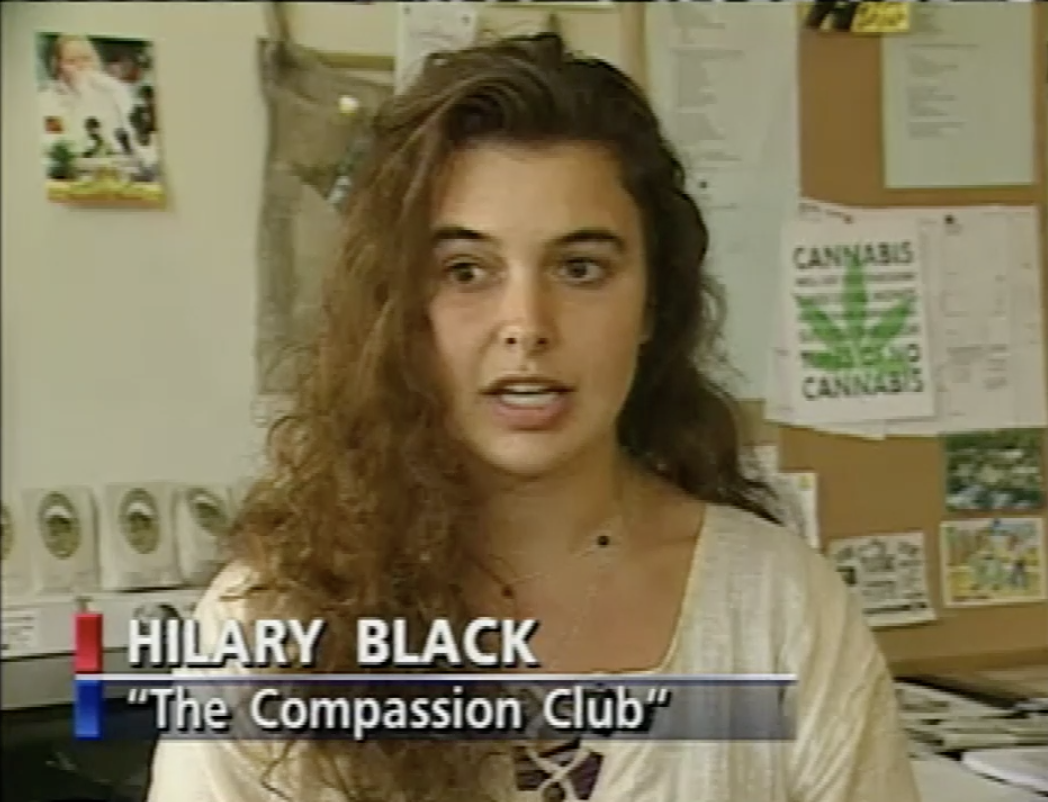 From unregulated to regulated to make a bigger impact
Before the regulated framework, you only had access to cannabis if you were near a Compassion Club.
In 2013, one of the first big licenses granted in Canada was to a company called Bedrocan. Bedrocan is a well-known company in Europe and has been distributing cannabis to European pharmacies for decades. So I moved from my grassroots, community-based, civil-disobedient, activist organization, into the regulated framework. I wanted to work on a systemic level to generate equal access for patients across the country. 
I wanted to work with a well-established medical organization that was experienced in working with physicians and pharmacies to open the doors for patients. I saw working with an established medical organization as the next step. 
I became the Director of Patient Education and Advocacy at Bedrocan. Tweed the first publicly traded cannabis company licensed by Health Canada, merged with Bedrocan which eventually became Canopy Growth Corporation. I was valued for my grassroots advocacy experience and authentic approach to consumers. They didn't need me to have MBA, a business degree, or the specific skills that they already had on the team. 
They supported me in learning how to navigate the corporate world and elevated my voice. I became one of the key spokespeople for the company, and the first female member of the C-suite at Canopy Growth.
Hilary Black speaks on the eve of cannabis legalization in 2018
While I was the Chief Advocacy Officer at Canopy Growth, my team executed all of the programs and partnerships that fostered our corporate reputation. We built credibility with consumers and key stakeholder groups and regulators. We spearheaded the first diversity, equity, and inclusion programming at Canopy Growth, developing a sophisticated social impact strategy based on social justice. The last thing my team did was produce the most comprehensive to date, environmental, social, and governance (ESG) report for the cannabis industry, the Canopy Growth 2021 ESG Report. And that report was our swan song – a major success. A couple of months later my whole team was restructured out of the company.
Where do you see your career going?
I want to work with people who have similar values around social justice, and climate change. I love emerging markets, transitioning patients into using medical cannabis, and drawing consumers from the unregulated to the regulated marketplace. I want to work with a team that keeps creating solutions to all of the complex issues we're facing.
I have a big basket of skills. I'm a spokesperson and a stakeholder relations ninja. I develop policy and successfully advocate for implementation. I'm a leader of DEI social impact and have produced the most comprehensive  ESG disclosure in the space to date. 
What are one or two things you'd like to see change in the cannabis industry?
The legalization of cannabis, the creation of this brand new industry is a global opportunity to evolve how we collectively engage in business, we can collectively solve the complex social and dire environmental  issues facing our planet rather than contribute to them. 
Social justice, diversity, equity, and inclusion are core functions of any cannabis company and should be treated that way. It's disappointing to see companies cutting these roles.
Not very many cannabis companies are doing environmental impact disclosures, but they're becoming mandated in the EU. I want to see more environmental disclosures globally. We have to measure and report on our impacts before planning to decarbonize. Companies that have very high ESG performance tend to be considered lower-risk companies to invest in and exhibit superior financial performance over the long term
Here are some of the other interesting and inspiring people you can meet in our Talent in Cannabis Profiles:
Amanda Reiman and her dedication to social change
Mike Gray and the importance of cannabis genetics
Otha Smith – renewable energy sales to cannabis entrepreneur
Herlena Harris – the winding path to cannabis
Cherissa Jackson – Matching cannabis products with DNA
Jai Kensey – Creating social impact in cannabis
Jason Bello – From Hall of Flowers to the Flower Expo