Walk the DEI talk. It's like any other aspect of life where we strive, make mistakes, and at our best, inspire and elevate others in your path. This is a map for our collective exploration; a DIY list of ingredients for us to come up with our own unique recipe for including others.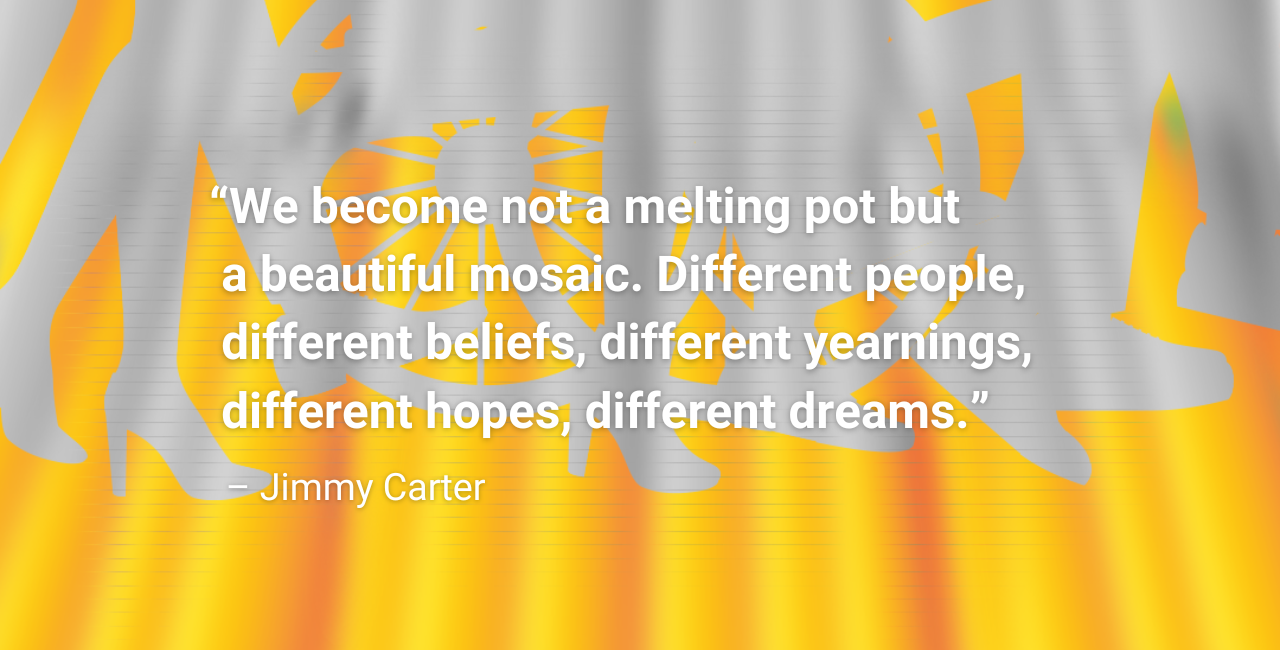 ADVOCATE

+ DISRUPT
Establish a workplace group to develop a DEI mission and policy that is respective to the

organization you function in, and commit to earnest vigilance in enforcement efforts

Encourage exposure: share what you read, watch, listen to – find podcasts, books, and films and influencers who teach DEI principles in ways that resonate with you, and share them with family, friends, and colleagues. 

Vote (and use your voice to encourage others to do so) in favor of policies that promote DEI initiatives in your region, state, local government; also in your school, library, place of worship, recreation center, or co-op board. 

Lobby

for diverse representation in positions of power including government, business, and elsewhere in your community. 

When you see something, say something

: speak up when you see or hear discriminatory language or behavior. Being an aspiring ally means taking action, even when it's uncomfortable.

Be inspired. Use humor, wisdom, and stories of personal accountability to both sing to the choir (we can all use encouragement) – and change hearts.
INVEST

 
Giving money to initiatives and organizations that promote DEI may be the most powerful thing you can do. Most organizations have ways you can set up a monthly donation; you can give at small levels that match almost all budgets. Even $10 or $20 a month can be meaningful (as well as possibly tax-deductible).

And be sure to ask

– most DEI efforts will also gratefully accept sweat equity in helping with fundraising and outreach efforts. Volunteering a couple of hours each Saturday can help enormously – and can be a fun outing.

Be a "

clictivist

" – help DEI efforts gain increased visibility via likes, reshares, etc. Help amplify and normalize the voices of marginalized communities. Find voices you can help find larger audiences by your reposting. Your investment in social media efforts can inform – and be applied  –  to support your

business communications

.
Organizations working on DEI in cannabis

 
Minority Cannabis Business Association is the largest national trade association dedicated to serving the needs of minority cannabis businesses and our communities.
Cannabis Doing Good offers resources for cannabis businesses to foster a purpose-driven cannabis community that sets the standard for community benefit, racial justice, and environmental justice.
Ecquinabis is a BIPOC, women-led, entrepreneurial compliance and diversity consulting firm for the cannabis industry, focusing specifically on the markets in New Jersey, New York, and the East Coast.
On the Revel highlights the diverse people that have been and are currently building the cannabis industry. They produce regular online content and in-person experiences and events to highlight the business opportunities in the cannabis industry.
Humble Bloom is a New York-based cannabis immersive education and advocacy platform that both empowers individuals through inclusive experiences and consults growing brands on how to bloom consciously.
The JUSTÜS Foundation works to welcome and support legacy operators into the legal market, unburdened by regulatory costs and taxes, so they will outcompete.
Our Academy is a workshop, mentorship, and resource group of individuals and companies in the cannabis industry that supports social equity qualified applicants, partners, and others disproportionately impacted by the War on Drugs.

Like we said, we don't have authoritative, concrete answers. We are all in this together… as we strive to be part of a rising tide that lifts all boats.  
Please share, and please suggest your best ideas and efforts.

Thank you.
FlowerHire DEI committee