Trade shows play a big role in exposing new cannabis brands. Hall of Flowers has played a big role in how some staple California cannabis brands have created such a presence for themselves.
As cannabis becomes legalized and normalized in more markets, those markets are in need of the same type of trade show. They serve as a platform that gives dispensaries/buyers the ability to make educated decisions about what products to put on shelves.
Jason Bello, CEO of Flower Expo started his cannabis career following in his father's footsteps, Eric Bello, Partner at Hall of Flowers. Through his cannabis career, he's learned the ins and outs of putting on a cannabis trade show as well as how to bring the most value to both wholesalers and brands.
Hall of Flowers has brought so much prosperity to the California cannabis industry, and we expect the Flower Expo to do the same for the Massachusetts market. We're so excited to share Jason's story and are looking forward to the Flower Expo in the Massachusetts market.
"

As a cannabis market becomes recreational, it requires a trade show to bring local cannabis businesses together – it's necessary to connect and facilitate commerce.

"

 

– Jason Bello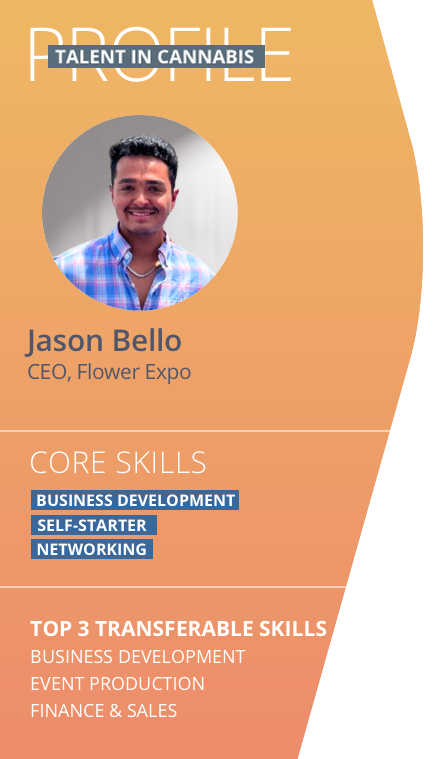 Jason's journey to the Flower Expo
What experiences led you to launch the Flower Expo?
I've been following in my father's footsteps for a long time now. After graduating from the University of Southern California – as my father did – I started interning at the Hall of Flowers and eventually worked my way up to operations, finance, and played a big role in launching Hall of Flower's first expansion and the second event in Palm Springs.
I left Hall of Flowers to help launch Green Street Festival. Green Street is an advertising agency that focuses on celebrity cannabis brands. They found the first public-facing Los Angeles cannabis event, hosted by Businessman Gary Vaynerchuck and Mike Glazer with performances by Juicy J & Friends. 
It was a really cool experience because it was a consumer-facing cannabis event that sold like a trade show. In the first year, we had 60 exhibitors, which is pretty unprecedented for a show's first year – we reached our goal of getting a lot of brands in front of consumers.
I also spent a year with Source Cannabis – one of California's top 20 flower companies. I was the director of business development and ran the sales department. I learned a lot about territory sales which taught me a lot about the importance of trade shows like Hall of Flowers.
These days, I live on the East Coast in Massachusetts. The Massachusetts market has matured and is ready for an event similar to Hall of Flowers. After working at Hall of Flowers for so many years, I've decided to launch the Flower Expo in Greenfield, MA.
What is the Flower Expo?
The business model is different from trade shows like MJBizCon, NECANN, and MJ Unpacked. Those trade shows are huge and focus on the industry as a whole. Ours is a boutique trade show that focuses on just the market we're in. It's all about getting the buyers from the dispensaries there and hoping they conduct business to get the product on the shelves.
The cannabis brands pay for the booth space – about 90% of the brands are plant-touching, and about 10% are ancillary businesses. Then dispensaries are invited to the show. We have a department of our company whose job is to just reach out to every one of the 300 dispensaries in Massachusetts. We treat them well because our goal is that we want to get them to our show and buy from our clients.
The importance of samples at our trade shows
To me, sampling and consumption are key to a cannabis event and it's a key part of our business model. We won't even go into a market until we can get consumption and sampling. Our trade shows are about dispensaries making educated decisions about what product they want to put on their shelves, so sampling has to be a part of that process.
Benefits of the Flower Expo trade show
Many wholesalers use a territory sales strategy to get their product on dispensary shelves – cold calling and visiting stores to show them products. This takes a lot of time and a well-thought-out strategy. Typically cannabis brands need to pay for Patient Appreciation Days (PAD), demos, and pay for everything your salesperson needs including samples and gas.
With trade shows like the Flower Expo, we offer the most cost-effective way to reach the most buyers in the shortest amount of time. We're streamlining companies' marketing and sales budgets into one show. Whether a company is the biggest or the smallest in the industry, they pay for one booth and they're going to be in front of every decision-maker in the state for two days.
Another benefit of the Flower Expo is that it helps normalize cannabis in the market that the show is in. As a cannabis market becomes recreational, it requires a trade show to bring local cannabis businesses together – it's necessary to connect and facilitate commerce.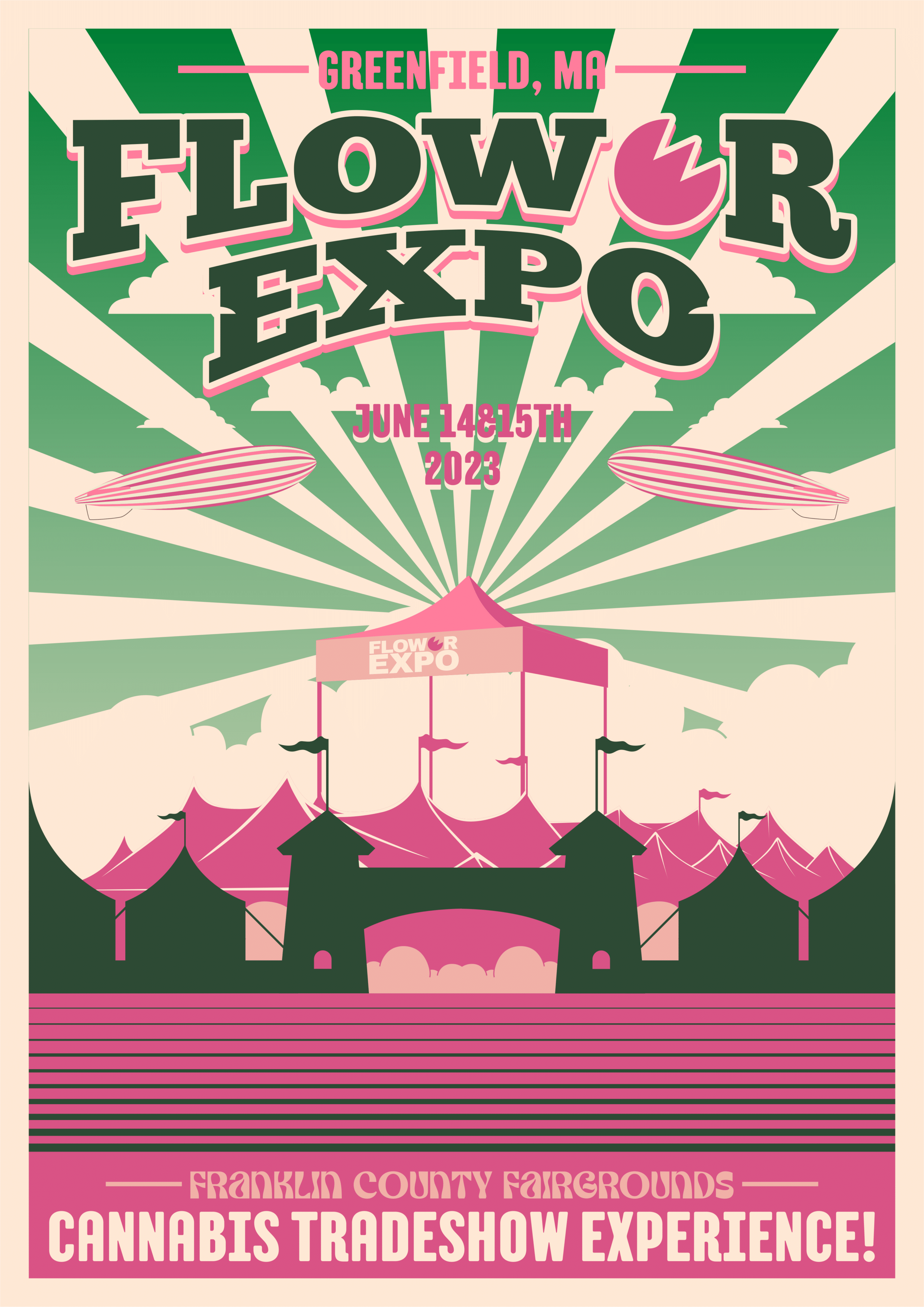 What has helped you make your Expos so successful?
Getting in the head of our customers to get a deeper understanding of what they want and delivering upon what they're expecting. We want to know how our customers make sales, what their opportunities are, and what they want – which is to have more products on the shelves. Then we develop and nurture relationships.
What are your goals?
Right now, 100% of my effort is trying to make my show as great as possible by getting as many retailers and exhibitors into the show to make it the best opportunity for both sides. And if everything goes well, there's definitely more of the country to conquer as legalization continues to roll out.
Do you have advice for anyone trying to get into the cannabis industry?
Regardless of what industry you're in, you need to do the common things uncommonly well and be responsive. Being on time is late. You've got a job, don't be on time, be early. If you have a baseball game at 7 pm, you don't show up at 7… you show up early to practice batting. That will carry you more than just at your job, it will carry you at life.
Get tickets to the Flower Expo
Here are some of the other interesting and inspiring people you can meet in our Talent in Cannabis Profiles:
Michelle Williams – The rise of the Mexican cannabis industry
Aaron Fergusun – Parlaying skills for cannabis
Jai Kensey – Creating social impact in cannabis
Blake Wilkerson – From reselling to quality control
Cherissa Jackson – Matching cannabis products with DNA
Amanda Reiman – Dedication to social change
Mike Gray – The importance of cannabis genetics
Tiffany Garcia – From unregulated to the legal market