Transferable skills are what make it possible for people to find their first cannabis job and be successful at it. Aaron Ferguson is a prime example of someone who found a way to use – what he calls "parlaying" – his previous skills for cannabis. A few of his prior jobs included:
Operations Engineer/Pilot Trainee in the US Air Force

Intelligence operations for the Department of Defense

Engineering Program Management

Sales

Business owner

Vertical farmer
All of these experiences led to his role as the Senior Vice President of Operations for Central Coast Agriculture where he oversees both agriculture and manufacturing.
"

Have thick skin and a resilient attitude. Stay positive, keep grinding, and pressing forward in spite of the headwinds."

 

– Aaron Ferguson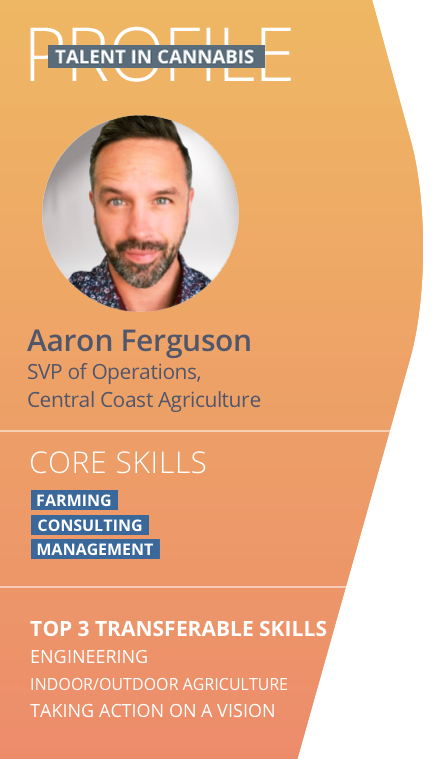 Before cannabis
What were you doing before working in cannabis?
I'm from Canada originally and came to the United States to be an officer in the US Air Force. I graduated from the Air Force Academy, completed introductory flight training, and flew for about a year before being transferred into intelligence for the Department of Defense. It gave me the opportunity to travel around the world and start building an analytical skill set.
After the military, I wanted to explore and see what I was interested in. I worked in sales for a while, and eventually, I got pulled back into the government to do consulting for defense intelligence projects. When those contracts ended, I joined an aerospace engineering firm. I got to use my engineering project management background for some super interesting projects, including the Mars 2020 vehicle, and the SpaceX Dragon capsule.
In the middle of those experiences, I decided that I wanted to run my own company. My family is involved in horticulture in the Midwest and I decided to start a vertical farm company focused on sustainable indoor farming. Over the course of about 2.5 years of aggressive R&D, we built this vertical farm in downtown Vancouver. We were growing produce aeroponically for all the local chefs and delivering it to local grocery stores. Eventually, I came back to California to do some more engineering program management, and that's where cannabis found me.
The phone call that catapulted the vertical farm
One day I was watching the Colbert Report. The guest was Dr. Dickson Despommier, a professor of microbiology at Columbia University in New York. He wrote a book called The Vertical Farm. I reached out to him and asked what I would need to put together a vertical farm project as he had envisioned. He connected me with everyone around the United States that I would need to know. He did not sponsor me because he is in academia, but he connected me with the people that I would need to speak with to launch the project.
One of the people Dr. Despommier connected me with was the former head of Environmental Compliance in the Chicago Mayor's Office. It was serendipitous that the City of Vancouver, Canada had recently hired him as City Manager, which is where I am originally from. This guy was all in on sustainable agriculture, renewable energy, and reshaping the food system. He helped me get my foot in the door of Vancouver and connected me with one of the major developers in the city, who then sponsored the vertical farm project. He helped me put together the whole business in Vancouver. This experience largely contributed to my current work in cannabis.
What drew you to the cannabis industry? 
Between the Air Force, sales, intelligence, consulting, engineering, and the vertical farm company, I thought I could parlay my skills and use them for cannabis. The industry was gaining momentum in California and I wanted to get in.
Tell us about your first role in the cannabis industry.
I started with Cresco in 2019. They were trying to get their farm (just south of Santa Barbara) off the ground. They recruited me from an engineering company, and I took over at Cresco as the facility director (or director of operations). I was primarily running the agriculture operations for Cresco in California. I oversaw compliance, cultivation, facility engineering, and processing.  So it was from there that Central Coast Agriculture came looking for me.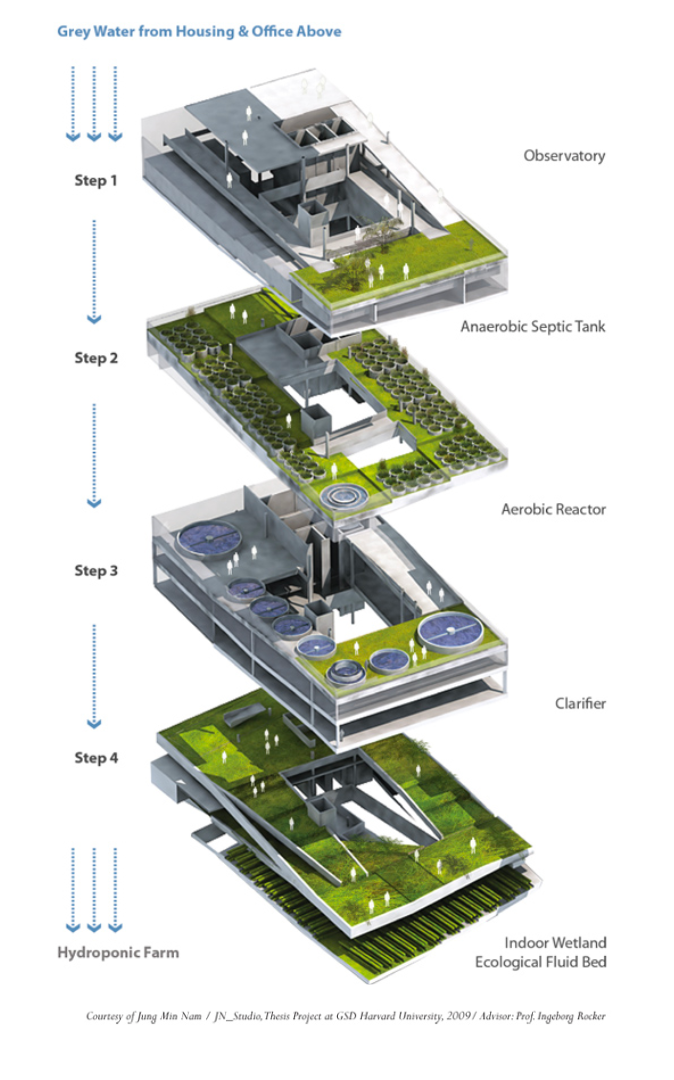 Tell us about your current role and the company you're working with.
Currently, I'm the Senior Vice President of Operations at Central Coast Agriculture (CCA). Most people know the Raw Garden brand, but CCA is the company behind it. I took over manufacturing last May. 
One goal behind CCA is to help the cannabis industry mature by taking some best practices from other industries and applying them to large-scale cannabis production. We already know how to grow great cannabis and make great products. So the next evolution is to find every efficiency improvement that we can and start to function like a lean GMP-certified company would in any other industry.
I was originally hired as the Nursery Director at CCA. One of my first goals was to transition the nursery program to be fully functioning with the latest tech in controlled environment agriculture, build out the seed production staff, and introduce Lean 6S practices to the Ag team. CCA wanted me to apply what I learned from working at a multi-state operator (MSO) and from running my own farming business to this already stellar group of farmers. I worked with the team to build out two greenhouses, hired the entire seed production staff, and just started introducing smart automation wherever we could in the process. 
I moved up to the VP of agriculture position and led the building out of our flower program. We acquired a new farm and I took everything I knew about precision-controlled hydroponics, and worked with the amazing Agriculture team to help apply it at scale. Right now, we have 24 acres of hydroponics outdoors which is the foundation for our pre-roll program that we launched last year. All of the flower for our pre-rolls comes from this outdoor hydroponic system. 
We chose hydroponics for the dry flower program to ensure that we could take advantage of that wonderful California sunshine, while also guaranteeing the product would be the cleanest, highest quality flower for this wonderful product line.
Then, last May, I was asked to take over as the VP of manufacturing as well. Since then, I've been working with that incredible team to help take us to the next level of lean, precision manufacturing processes.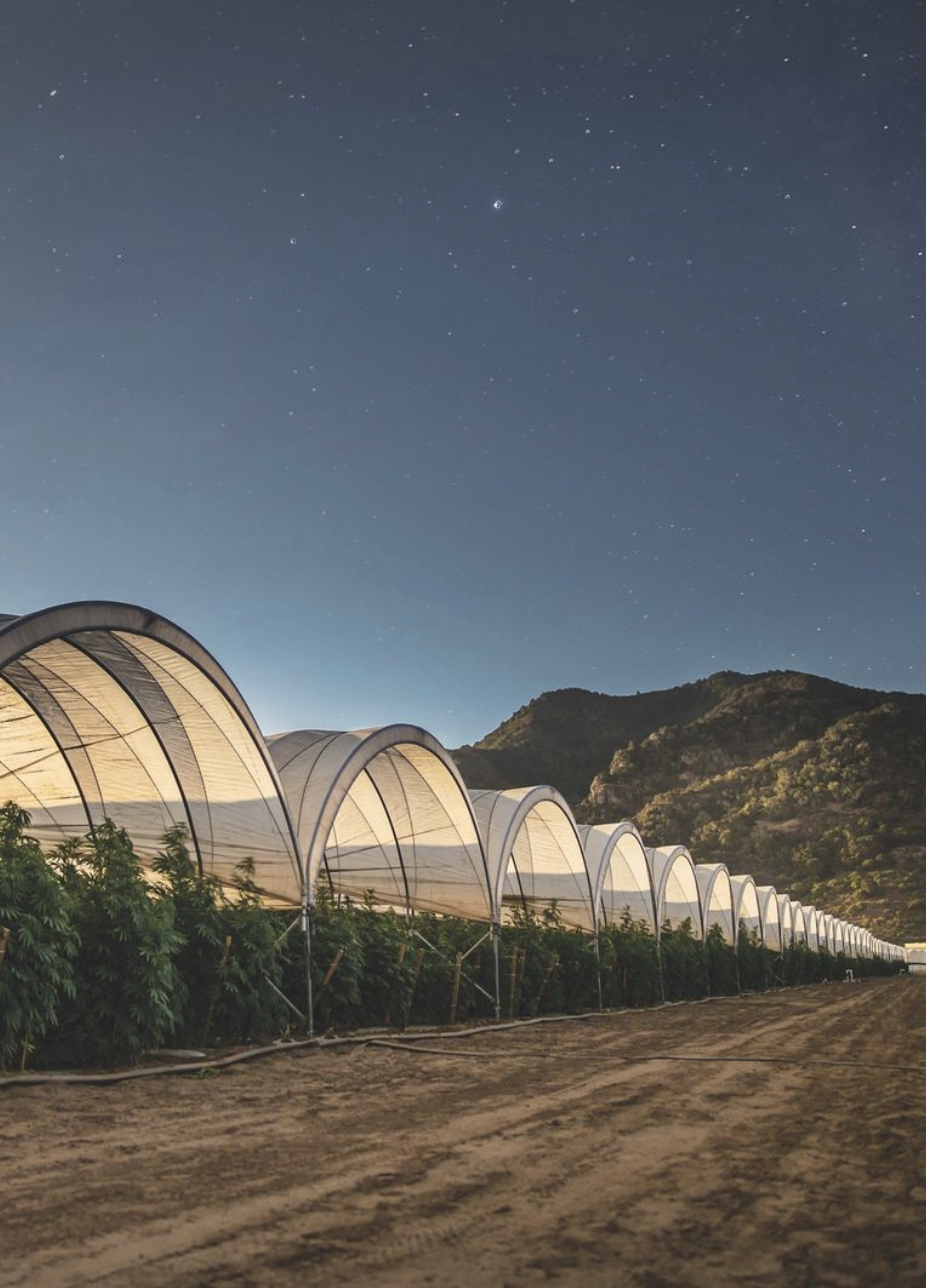 THE TRANSITION
What's one thing that everyone transitioning into the cannabis industry should know before making the transition?
Have thick skin and a resilient attitude. Stay positive, keep grinding, and pressing forward in spite of the headwinds.  
Do you have advice for other people who are starting their journey in the cannabis industry?
You learn best by failing. Raw Garden takes the same approach. Let's fail fast so we can learn all the lessons we need to and move forward with that experience and new knowledge.
What are your thoughts about the current state of the California market?
At some point, the industry in California is going to boomerang and turn back around. I think we just had a lot of excitement generated with rec, a lot of licenses approved, and a lot of people getting their feet wet in the market, which put a lot of supply out there amidst a robust regulatory environment. And now I think it's just like every other industry that's new – it's correcting itself. And I think it will ultimately settle into the right mix of retail, distribution, cultivation, and manufacturing. 
THE FUTURE
Where do you see your career going?'
I want to keep growing and seeing as much as I possibly can. My trajectory is preparing me for a Chief Operations Officer position and I'd love to eventually move into that role if I'm fortunate enough.
What are one or two things you'd like to see change in the cannabis industry?
I would like to see the borders open up for interstate commerce. I believe a lot of the issues within California could be remediated by being able to really have good old-fashioned, free trade with the rest of the country while right-sizing the California market. I think a lot of the United States is hungry for the products that California has to offer, and those companies that are poised to intelligently scale will help to lead the next stage of evolution in this exciting industry.
If you're looking for a cannabis job, reach out to our cannabis recruiters.
Here are some of the other interesting and inspiring people you can meet in our Talent in Cannabis Profiles:
Amanda Reiman and her dedication to social change
Mike Gray and the importance of cannabis genetics
Otha Smith – renewable energy sales to cannabis entrepreneur
Herlena Harris – the winding path to cannabis
Cherissa Jackson – Matching cannabis products with DNA
Jai Kensey – Creating social impact in cannabis