The FlowerHire mission is to Build a Conscious Cannabis Community, One Hire at a Time – a mission we share with everyone we come in contact with. Because of this, the topic of community comes up often in our office and with our clients and candidates. It begs the question, what precisely is community in cannabis? What has it looked like in the past, where are we now, and how the hell do we keep things cohesive and moving in a sustainable, equitable, and profitable direction during challenging times?
A

community

is

best

defined as a group of people who, regardless of the diversity of their backgrounds, have been able to accept and transcend their differences, enabling them to communicate effectively and openly and to work together toward goals identified as being for their common good.
I grew up in rural Mendocino County in the late 80's and 90's and can say that the "cannabis industry" has been an integral part of my life for as long as I can remember. Growing up where and when I did, I saw firsthand two aspects of what I now understand as cannabis history: the rural cultivators in my community and the brave political advocates of legalization & Prop 215. The people I grew up with grew cannabis, some grew a lot (like, a lot) and some did not. From my understanding, the common value was simple: freedom.
Whether it was the freedom to grow a plant you enjoy on your own property, freedom to not have "a boss," freedom to work your own schedule, or simply the freedom that comes with doing something on the fringe of society. Of course many people paid dearly for that freedom, but the risk seemed to outweigh the potential consequences. Growing up, that is how I viewed cannabis farmers:  people who would sacrifice everything to do what they wanted to do.


The Compassionate Use Act…
Prop 215  passed when I was 10 years old and, although I was too young to understand what it meant, I remember people in my community debating and discussing it. Conceived by Dennis Peron in memory of his partner, who had used marijuana to treat AIDS symptoms, Prop 215 was called the Compassionate Use Act and was written to make sure that sick people could get the medicine they needed to heal and relieve pain. The champions of this movement understood and believed deeply in the power of this plant.
The Passing of Prop 64…
In 2017, California passed Prop 64 and legalized the sale of recreational cannabis. This has been a blessing and a curse for many who have been in this game for a long time. I have spoken to cultivators who joined the legal market and have cried from the relief they feel about "coming into the light." I also know there are many Prop 215 cultivators who are no longer able to operate because Prop 64 tax revenue has been used to fund raids to shut them down. Cultivators operating in the shadows who cannot pay for licensing are now competing with the legal market and find the whole experience a mess. Due to the restrictions on giving out samples in the legal market, patients no longer qualify for free medicine. These challenges add up to a real impact for a lot of farmers and patients, and we need to work together as a community to create opportunities for everyone who has participated in the building of the Cannabis industry to benefit from these new paradigms.
The question we now must pose is, how?
How can we uphold the sense of freedom given the extremely rigid restrictions and licensing? 

How will we make sure that patients have safe, affordable access to the medicine they deserve? 

How can we create a sustainable, equitable, and profitable system where the industry newcomers, industry veterans, investors, and partners in government work synergistically to bring more access to the plant for more people while holding onto some sense of shared values?
FlowerHire's Mission
Building a Conscious Cannabis Community


At FlowerHire, we are in a unique position to both watch this realignment and impact it – and we've developed a unique screening process we call Cannabis IQ, which is based on our values of Community, Authenticity, Transparency, and Execution. Whenever we work with new candidates we ensure they:

Believe that access to safe, legal, regulated cannabis will have a net positive impact on our society.

Excited and capable of working collaboratively and solving problems collaboratively in a start-up industry that is unpredictable.

Respect this unique moment in time, what it took to get here, and how to move the community forward in a sustainable, equitable, and profitable way.
As we help companies and the industry grow, we need to be conscious and intentional about how we work as a team to build a thriving industry that supports a vibrant culture and economic opportunity for all. We believe it's a matter of when, not if, Cannabis becomes a global industry with use cases in healthcare, wellness, hospitality, and science & technology. We also understand that the collective can not thrive without a high degree of professionalism, focus, and a broad array of specialized skill sets. We also know that Diverse and Inclusive organizations whose employees represent the broad Cannabis consumer base will outperform their homogenous competitors. Cannabis is a karmic industry, and those who join should embrace the community and be prepared to adapt or completely throw out the old playbook and build bridges and not walls so that our industry represents both the history of the plant and the people who started and sustained the movement, while balancing how to also build best version of the future. A future that benefits consumers, employees, investors and – above all – society.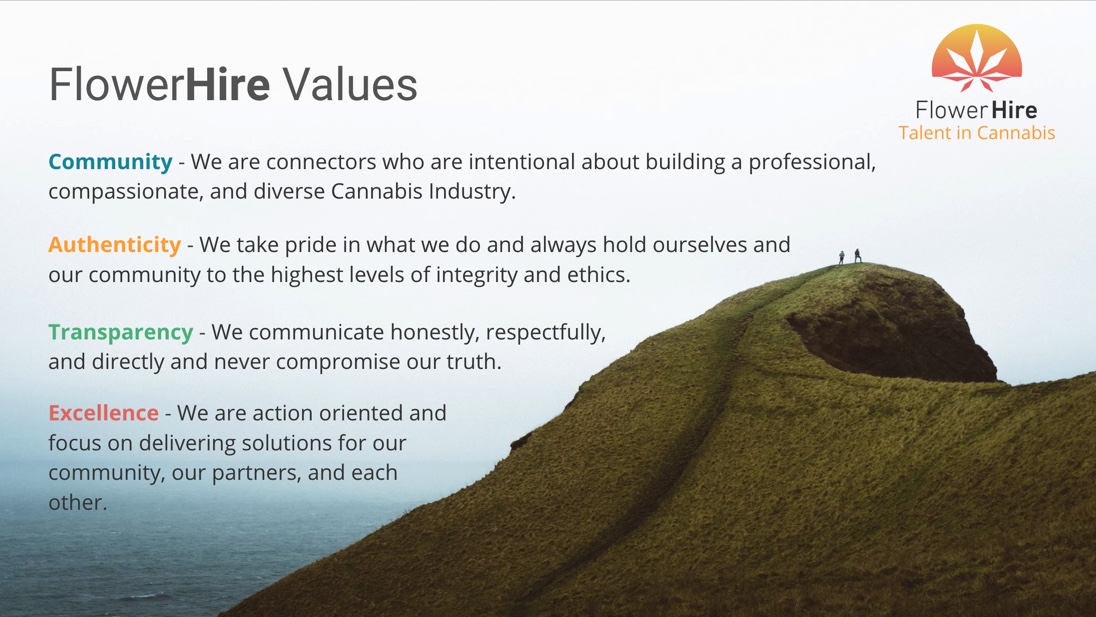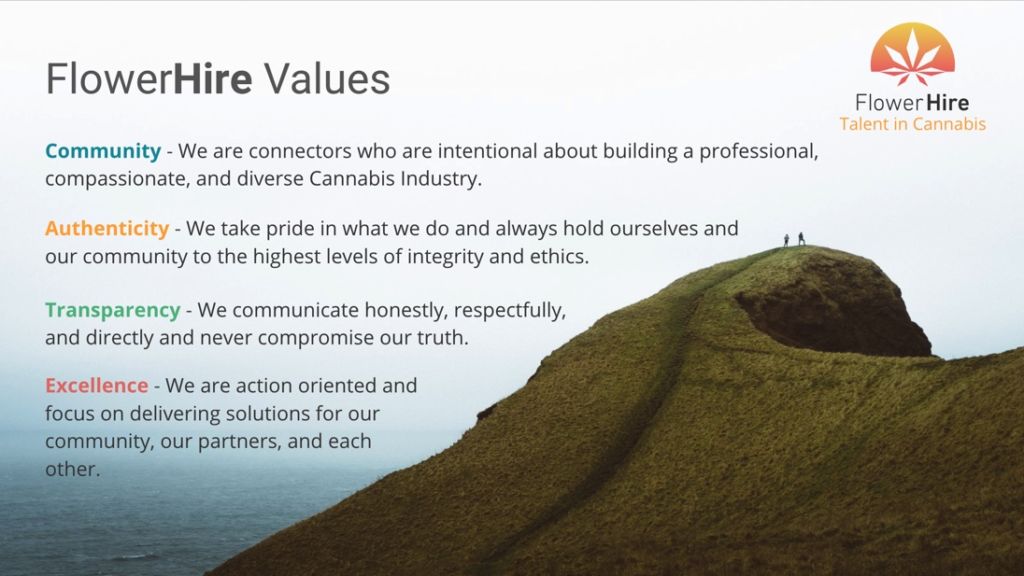 Cannabis brings all kinds of people together, and we have an opportunity to build a truly diverse industry that functions not only to bring in valuable revenue that can help rebuild communities impacted by the war on drugs, but most importantly to provide medicine and relief to millions of people. We need collaborators and innovators, fearless and humble leaders. We need more women, people of color, LGBTQIA+ people. We are committed to finding these people, the best of them, and bringing them enthusiastically into cannabis to solve problems, build bridges, and create a conscious cannabis community.