The Emerald Cup has come and gone  and after another tumultuous year in California Cannabis, spending the weekend at the Cup felt like a much needed hug. For those who have never attended, Em Cup is a glorious combination of a weed farmers market and an educational fair. The buildings on the fairgrounds are filled with cannabis booths of all kinds. Using their onsite POS (Meadow), brands are there to peddle their wares to enthusiastic consumers. Many booths are set up lounge-style with comfy couches and chairs to chill in (shoutout to Elyon for the pyramid). The best part? You can light up whatever you bought right there on the spot. Not long after opening each morning, the smoke inside is thick and glorious.
MJBiz vs. Emerald Cup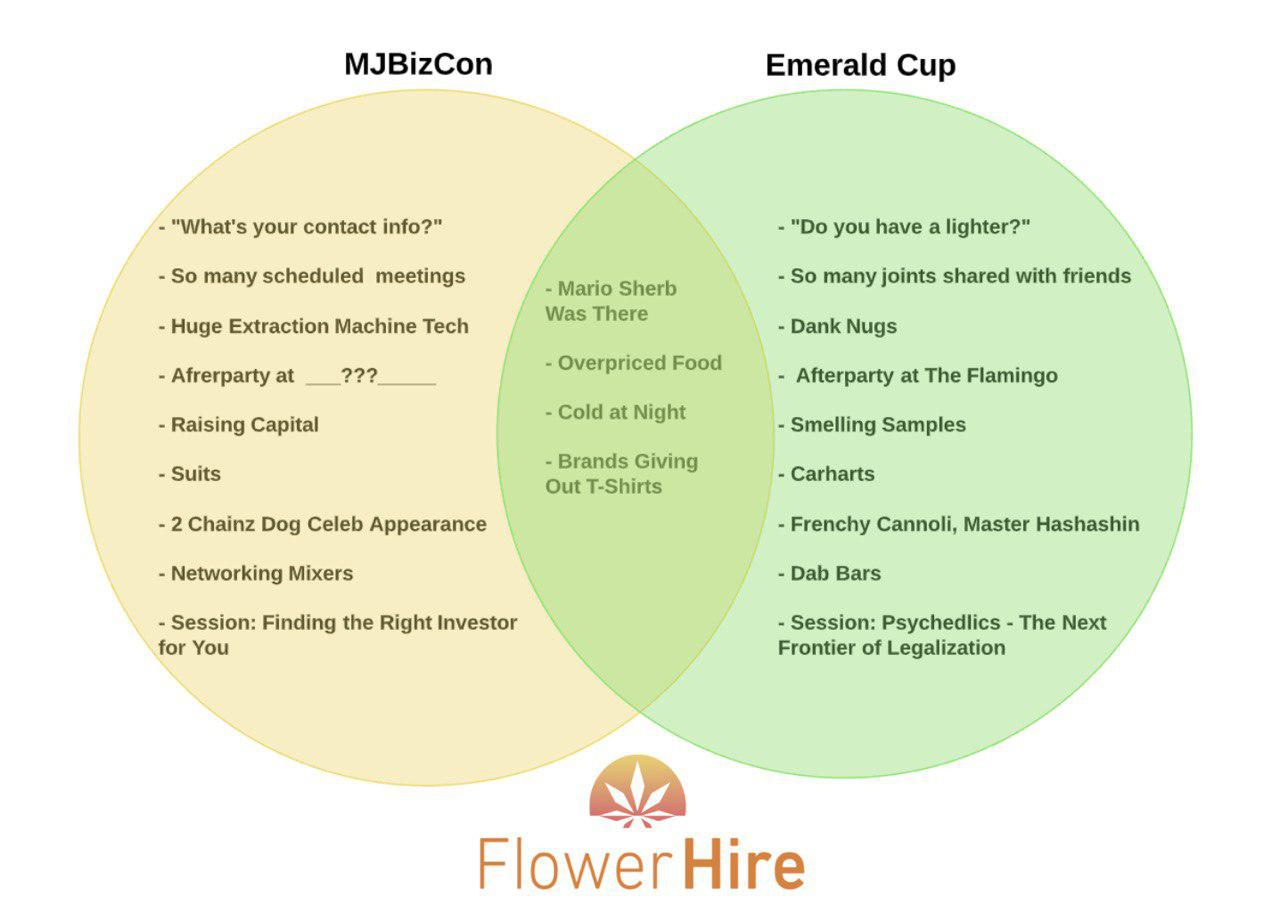 While MJBizCon is a flex of industry size, business expansion, and technology, Emerald Cup is a true celebration of the plant. Brands and farmers have just survived another harvest season and with flower cured and packaged they are ready to show off their year's work. You can find everything from jarred flower and prerolls to live rosin and vapes. Everything can be consumed onsite, shared with friends, and if you smoke all of your favorite offering that's OK, because you can walk right back over and get some more. Attendees are either industry professionals there to work or support a friend, or folks who have paid top dollar for a ticket so they can have access to great deals and a fabulous selection of high-quality products. There would be no point to attending this event if you didn't love weed. It's pretty great. 
As the Cup has grown since its inception in 2003, meet and greets, musical acts, art, and a wide variety of panels and sessions have been used to keep guests entertained and informed. Tommy Chong was there being Tommy Chong, and I attended sessions on topics like "Your Body and the Endocannabinoid System" and "Corporate Cannabis and Social Responsibility." The need for cohesive education in cannabis is widely recognized, and the Cup did a great job of compiling panels of experienced, educated, and passionate speakers. 
Beneath the bells and whistles of live music, learning, buying, etc, what makes the Cup so great is the true feeling of community. Cannabis can be a lonely place sometimes, and after a tough year for many, coming together to celebrate the harvest and the work that has been done can help us wrap up 2019 with some love. From product collabs like Chemistry & Space Coyote, to the proud launching of brands like Doc Greens, what you get to sample at the Emerald Cup is the camaraderie, creativity, and passion that built this industry. 
Written by Ali Cook, Talent Detective at FlowerHire
Video Filmed and Edited by Pasquale Iannino