While COVID -19 has decimated many industries and caused deep macroeconomic uncertainty, cannabis continues to accelerate. At FlowerHire, where we focus on executive placement for legalized cannabis and hemp businesses, we're busier than we've ever been. 
Even more significantly, we're hiring for as many operators on the East Coast as on the West Coast. This shift is noteworthy considering that until 2019, a majority of our 300+ hires were in the California market. 
The hiring trend appears strong across MSOs, multi-location SSOs, newly-licensed startups, ancillary companies, and CBD brands alike. We're seeing it in states like Massachusetts, with its new recreational market, and New Jersey,  Pennsylvania, and Florida, where existing medical programs continue to grow.  
It's no surprise that states are also those where consumer demand for cannabis is at an all-time high. MJBizDaily reported this week that US retail marijuana sales are on pace to rise 40% in 2020, near $37 billion by 2024 with significant swells in PA and NJ, which recently dropped the cannabis sales tax. Florida has seen record sales in its vertically-integrated medical-only market. And all of this, despite the widespread economic downturn.
Simultaneously, momentum has hastened for cannabis legalization; states reeling from Covid-19 financial losses and lawmakers are eager to find ways to fund the deficits, and are looking to the tax revenues and jobs that will be produced by a legalized cannabis industry. Studies project huge job growth, which has caught the attention of policymakers, jobseekers and labor unions alike. In the past few months it's become clear that establishing adult- use markets across the East Coast is not a matter of if, but when.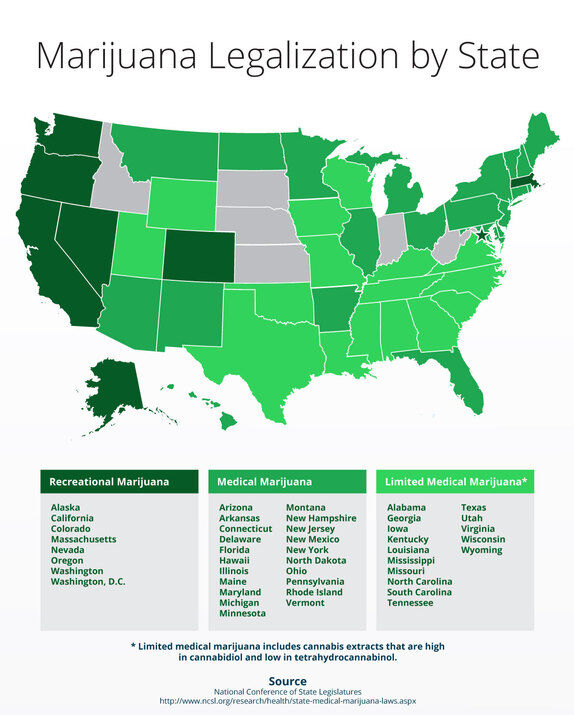 This moment would not be possible without the decades of advocacy by national organizations like the NCIA, NORML, Americans for Safe Access, and the Minority Cannabis Business Association, state-specific  business associations here on the East Coast like the PA Cannabis Association, Elevate NE,  NJBCA and cultural groups like Happy Munkey and Revel.  
The shift in public opinion is palpable. A Gallup poll released this week shows that more than 70% of Americans believe smoking cannabis is morally acceptable. The "essential designation" of cannabis dispensaries in over 30 states was a contributing factor. If hair salons are closed, but pot shops are open, that sends a strong message about the value of cannabis to society.  More and more, people are becoming educated about cannabis' benefits for pain, sleep and anxiety, resulting in growing consumer numbers in both medical and recreational markets.
Busier dispensaries, hustling to implement online ordering and drive-through operations, mean more staff. This need to increase staff cascades through the supply chain. Hence, at FlowerHire, we are seeing strong demand for cultivation, compliance, finance, sales and marketing professionals with strong operational retail and wholesale experience. 
While many large public companies have had to downsize this year, others have benefited from real estate leasebacks, and have been able to use their freed up cash for hiring. Also, M&A activity amongst East Coast MSOs creates turnover, as the org chart evolves to support a new strategic direction. 
The time has arrived for East Coast cannabis; through a coalescence of factors, regulators and public opinion have finally caught up with cannabis advocates, operators and funders, and the future is ours to build.