Every day, cannabis accountants perform miracles keeping companies afloat operating with shoestring budgets, and distributing costs to limit 280e exposure. Yet, cannabis companies often try to underpay for some of these positions. While a cannabis company's budget may be small, this makes it even more important to compensate accounting and finance employees competitively.  
Challenges of hiring cannabis finance and accounting employees
Accountants generally tend to be more pragmatic and risk-averse. Working in a startup industry that has the potential for legal risk is often not as appealing to an accountant as working in a less risky and more predictable industry. Right out of the gate, this makes it challenging to find accountants who actually want to work in cannabis.
When companies find employees who understand and are open to the risks in the emerging industry, the second challenge is finding finance and accounting employees who are open to a non-linear career path. With the promises of more predictable and linear career growth in other industries, working in an unpredictable industry with an unclear career path can appear unappealing to some – but the right candidates will see a new industry to learn and solve. 
A typical accounting career can look something like:
Accounts Payable Analyst > Staff Accountant > Accountant I > Accountant II
But in cannabis, there is not yet a standard career path.
While the career path is less predictable, the responsibilities of a role in cannabis are familiar. They work with accounts payable, accounts receivable, general ledger, profits and losses, and budget analysis. The key differences are that cannabis accountants:
Navigate 280E

Can itemize fewer write-offs

Manage large sums of cash (paper money)

Lack of access to enterprise-grade technology or Tier 1 banks

Knowledge of IFRS accounting standards for international public markets

Manage multi-entity accounting – usually cannabis companies have multiple licenses and each license has hit its own operating business for financials and tax purposes.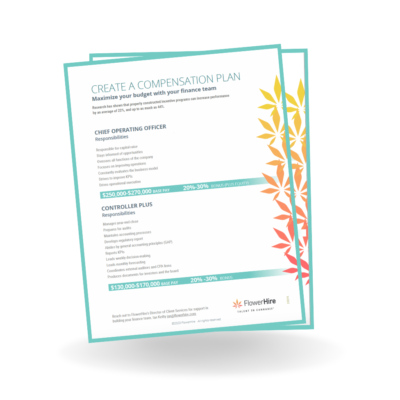 Cannabis Accountant
Related titles for cannabis accountant
Senior accountant, staff accountant, general ledger accountant, cost accountant
Base salary for a cannabis accountant
$70,000 to $110,000
Typically no bonus for this role
Cannabis accountant job description
An accountant in cannabis is responsible for:
Withdrawals

Payment to vendors

Accounts payable

Accounts receivable

Bank statements

Strategic planning

Financial reporting

Overseeing junior staff

Participating in budget forecast

Preparing financial statements

Examples of financial states

Develop and maintain financial models



If the business is retail – even if it's delivery-only – experience in cost accounting of inventory is helpful. Accountants look at both the cost of goods and how many products are sold. For example, when a vape cartridge is sold, the accountant should understand how much each part of the vape costs (i.e. mouthpiece, battery) and how much it's being sold for. 
Cannabis accountants will likely use METRC (Marijuana Enforcement Tracking Reporting Compliance used in more than 20 states) if the company is involved with cultivation. The accountant is looking at the cost of seeds, the number of plants being grown, how many plants or flower is being sold, and for how much.
Cannabis accountants typically use similar types of systems as mainstream businesses. They might use Quickbooks, SAP, Google Suite, spreadsheet software, or a custom-built CRM.
Cannabis Accounting Manager
Related titles for cannabis accounting manager
Controller
Base salary for cannabis accounting manager
$120-000 to $150,000
Bonus 
Bonus eligibility of 10% is widespread for this level of role. (Candidates with a valid CPA will require higher compensation)
Job description for cannabis accounting manager
A cannabis accounting manager manages the same financial details that the accountant or accounting team does. They manage the office, manage the environment, and oversee the team. This person works closely with the controller and the VP of finance to make sure any problems or issues are being addressed and handled. This person works to continuously improve systems and processes while providing coaching and mentorship.
The cannabis accounting manager works closely with the controller and VP of finance / CFO. The need to be a good leader of General Ledger and verify problems are being addressed. They identify and report improvement of systems and processes, and provide coaching and mentorship. 
Controller Plus
Related titles for controller plus 
Controller, Vp Finance, CFO (some companies in cannabis call this role their CFO but they really want a controller that can do some reports, budgeting, and a little forecasting)
Salary for controller plus
130,000 to 170,000 (Candidates with a valid CPA will require higher compensation)
Bonus for controller plus
This position typically has a 20% to 30% bonus. 80% of the bonus is often based on company-wide goals, and the other 20% is based on the individual performance of KPIs.
Job description for controller plus
The controller plus managers the month and year-end close and prepares for audits. This person maintains accounting processes, develops a regulatory report, and ensures that year-end closes are in accordance is general accounting principles 
The controller plus reports key cost indicators and KPIs in a meaningful way to lead weekly decision-making and monthly forecast. This coordinates with external auditors and potential CPA firms.  Sometimes these folks are involved in producing documents that are meant to be investor / board-facing.
VP of Finance or Chief Financial Officer (CFO)
Base salary 
$250,000 to $270,000 with a bonus of 20% to 30%
Sometimes the salary will be lower – closer to $180,000 – but with high company equity.
Bonus for CFO
When full-time, this position almost always comes with an equity and bonus component. The CFO tends to be the second or third highest-paid person at a cannabis company.
Job description of VP of Finance in cannabis
The size of the organization will determine whether the company has both a VP of Finance and a CFO, or they may just need one of the roles. If the company is a startup with only one of these roles, and the lead financial role is a founding member, the company might give the person a CFO title rather than a VP of Finance. If the person is a hire who is not a founding member or a key stakeholder, then they might give this person the title VP of Finance over the CFO title.
Higher-level finance roles are often responsible for capital raise. The company might be raising capital through debt or through an outside investor. Cannabis companies should know if there are plans to go public because public companies require a specific type of CFO.  
A CFO analyzes and stays informed on the ongoing developments in various financing opportunities available for cannabis companies. Depending on the company and the level of experience, a CFO could have tech, HR, compliance, legal and other functions reporting to them. Usually, a true CFO will need a solid accounting counterpart (controller) underneath them.  
Outside of the largest public companies in the cannabis industry, a CFO tends to be more operationally minded in this industry. They are constantly evaluating the underlying business model of the operation and looking for ways to create efficiency and diving into the various KPIs and numbers. A goal is to figure out solutions for how to impact the business to drive the correct operational execution.'
WAS THIS FINANCE CANNABIS SALARY GUIDE HELPFUL? HERE ARE A FEW MORE SALARY GUIDES:
Cultivation Cannabis Salary Guide
Manufacturing & Production Cannabis Salary Guide
Marketing Cannabis Salary Guide
Others articles:
When do Cannabis Companies Need to Hire HR?
Benefits of Partnering with a Cannabis Recruiting Agency
Challenges of Recruiting in the Cannabis Industry