In a vertically integrated cannabis company, the demands of a marketing department are vast. Marketing has to market for both retail and the brand. Over the past few years, there was a strong focus on marketing for the brand side of a vertically integrated company. In the past 12 to 18 months, there's been more of a shift towards retail marketing since companies have more data available on their customers. As a result, the desired skill set for marketing employees has also shifted.
Even with this shift, there's still so much breadth to the marketing department's responsibilities that there's a strong need for both sides of marketing. Whichever side of marketing the marketing leader is strong in, they usually need to hire a strong number two on the other side. For example, if the chief marketing officer has a strong skill set in retail marketing, then the VP of brand marketing needs to be a strong brand leader.
Many companies' marketing departments are understaffed. Often senior-level marketing employees are responsible for a wide range of company strategies and deliverables. This cannabis marketing salary guide outlines a core senior-level marketing team.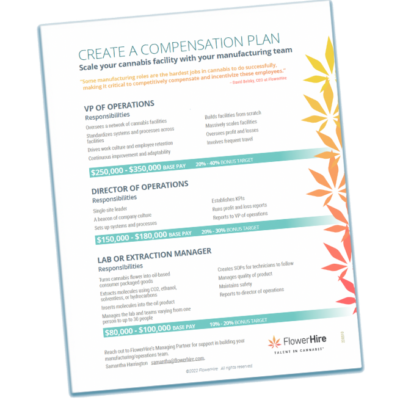 How to compensate cannabis marketing teams
A company that has a tier of Vice President (VP) marketing is most likely a larger operation. This person oversees personnel involved in brand marketing, retail marketing, and digital marketing. They all collaboratively work together. 
Brand marketing and retail marketing typically operate as their own divisions. Digital marketing supports both brand and retail marketing.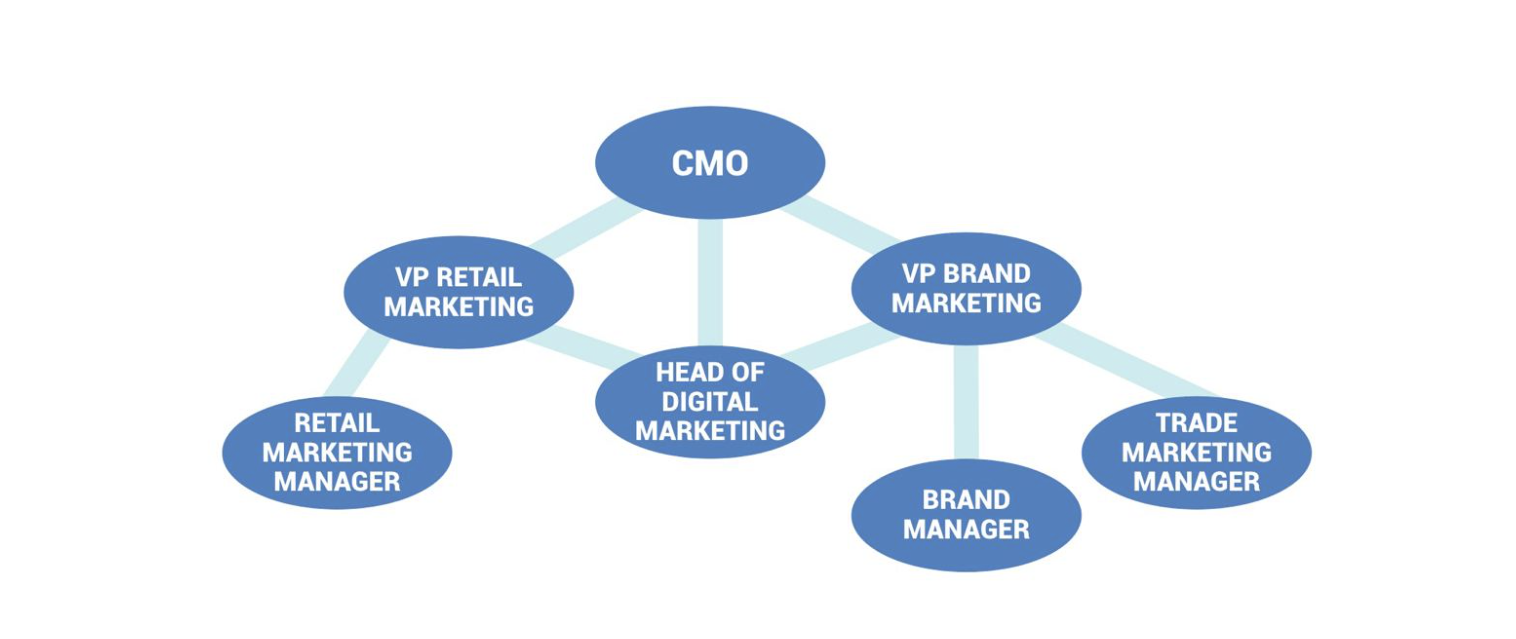 Chief Marketing Officer
Related titles
Head of marketing
Base salary
$200,000 to $300,000
Bonus structure
Up to 30%-50% and usually an equity option
Job description
A chief marketing officer (CMO) in cannabis oversees brand marketing, retail marketing, and digital marketing. This highly strategic role oversees everything involved in marketing including budgeting, new customer acquisition, e-commerce, curbside pickup, delivery, brands, logo, brand strategy, and creative. A CMO manages the brand during the commercialization of a company. A CMO must have an understanding of compliance to be sure their marketing aligns with regulations.
The compensation and responsibilities of the chief marketing officer vary depending on the size of the company. A multi-state operator may have 5,000 employees, many brands, and many products within that brand. A vertically integrated single-state operator may have around 100 or fewer employees and quite possibly one brand.
VP of Brand Marketing
Related titles
VP of product marketing, head of brand marketing, head of product marketing, director of brand marketing, director of product marketing, senior brand manager, head of brands 
Base salary
$150,000 to $220,000
Bonus
20 to 30% 
Job description
The VP of brands is responsible for the visual representations of the brand, identifying and engaging the target brand customer, insights and innovation, and brand narrative. They analyze what customers are buying, and what products should be launched next. Brand marketing connects closely with product management. 
The brand marketing team drives the release of new products. They create marketing assets that support product releases, and they also have to work with operations or potential supply chain partners to make sure that deadlines are hit and maintain the launch schedule.
VP of Retail Marketing
Related titles
Head of retail marketing, director of retail marketing, manager of retail marketing, retail marketing coordinator
Base salary
$125,000 to $175,000
Bonus
20% to 30% 
Job description
Develops and leads the execution of retail marketing strategy enterprise-wide. This includes the development, communication, and tactical execution of marketing plans. This role strategizes how to improve brand awareness, build guest experience, and drive customer engagement to drive traffic. This includes customer loyalty programs, customer segmentation, promotional strategy, and analyzing inventory, sales, and profit margin. A VP of retail marketing leads the marketing calendar, promotional analysis, store-level product introduction, consumer insight, and competitive intelligence.
As increasing amounts of customer data are acquired and available, retail marketing becomes ever more data-driven. Many businesses, including medical offices, health clubs, convenience stores, casinos, and liquor stores, collect information from consumers' submitted data and loyalty programs. This wealth of trackable data is being gathered, monitored, and leveraged by savvy cannabis industry retailers.
The structure of a marketing team varies based on the company's structure. For example, a multi-state operator may require different retail leaders to lead each state. A company may also delegate a senior retail staff member to be the point person for specific retail locations, each taking direction from that marketing leader.
Head of digital marketing
Base salary
$100,000 to $140,000
$140,000 to $180,000 if managing a team
Job description
While digital marketing is its own sector of marketing and has its own team, it supports both retail and brand marketing. Digital marketers work with people in all different tiers of the company. Digital marketing supports retail through e-commerce disciplines intersecting with digital and retail. They also frequently collaborate with the brand side of marketing. A head of digital marketing manages teams responsible for digital efforts including social media, website, search engine optimization, e-commerce plug-in, and email marketing.
Common marketing management roles
Depending on a company's offerings, products, and distribution models, other management roles may be necessary. These may include brand manger, field marketing manager, brand ambassador, and more.
Brand manager
Base salary
$120,000 to $150,000
Job description
The brand manager drives the brand strategy across all marketing initiatives and ensures a consistent consumer experience. This role stays abreast of all digital marketing mediums and manages the team executing the strategy set in place by the VP of brand marketing.
Field (or trade) marketing manager
Base salary
$100,000 to $150,000
Job description
Manages field marketing reps, brand ambassadors, and how to educate dispensary employees about the brand. This role provides local marketing input the help shape the marketing strategy. Field marketing managers enhance and execute enterprise-wide marketing programs at a local level. They develop wholesale customer and retail dispensary initiatives to drive awareness, traffic and revenue, and customer acquisition and retention.
Retail marketing manager
Base salary
$90,000 to $120,000
Job description
The retail marketing manager focuses on the shopper experience and driving new customers in. They oversee localized campaigns including community partnership events, store-specific social media, and regional promotions. This role often works with inventory and supply chain employees to line up product stock to projected sell-through. 
Brand ambassador
Base salary
 $40,000 to $70,000
Job description
Brand Ambassadors are typically responsible for training retail dispensary staff on the brand's products. They educate customers during in-store demos and events.
WAS THIS CANNABIS MARKETING SALARY GUIDE HELPFUL? HERE ARE A FEW MORE SALARY GUIDES
Cannabis Cultivation Salary Guide
Cannabis Manufacturing & Production Salary Guide
OTHER ARTICLES
When Do Cannabis Companies Need to Hire HR?
Benefits of Partnering with a Cannabis Recruiting Agency