The economic benefits of cannabis legalization are spreading across the country. Both medical and recreational programs are rapidly expanding which is leading to cannabis job growth nationwide, in all areas of the country.
At FlowerHire, a national platform for delivering cannabis talent, we've noticed significant trend changes in where cannabis six-figure jobs – salary average $140,000 – are emerging. These trends provide insights into the year-over-year growth of the cannabis industry and the direction the industry is headed. The data we've collected represents executive, leadership, and management cannabis job placements. 
First, let's take a look at the regional breakdown of 2021: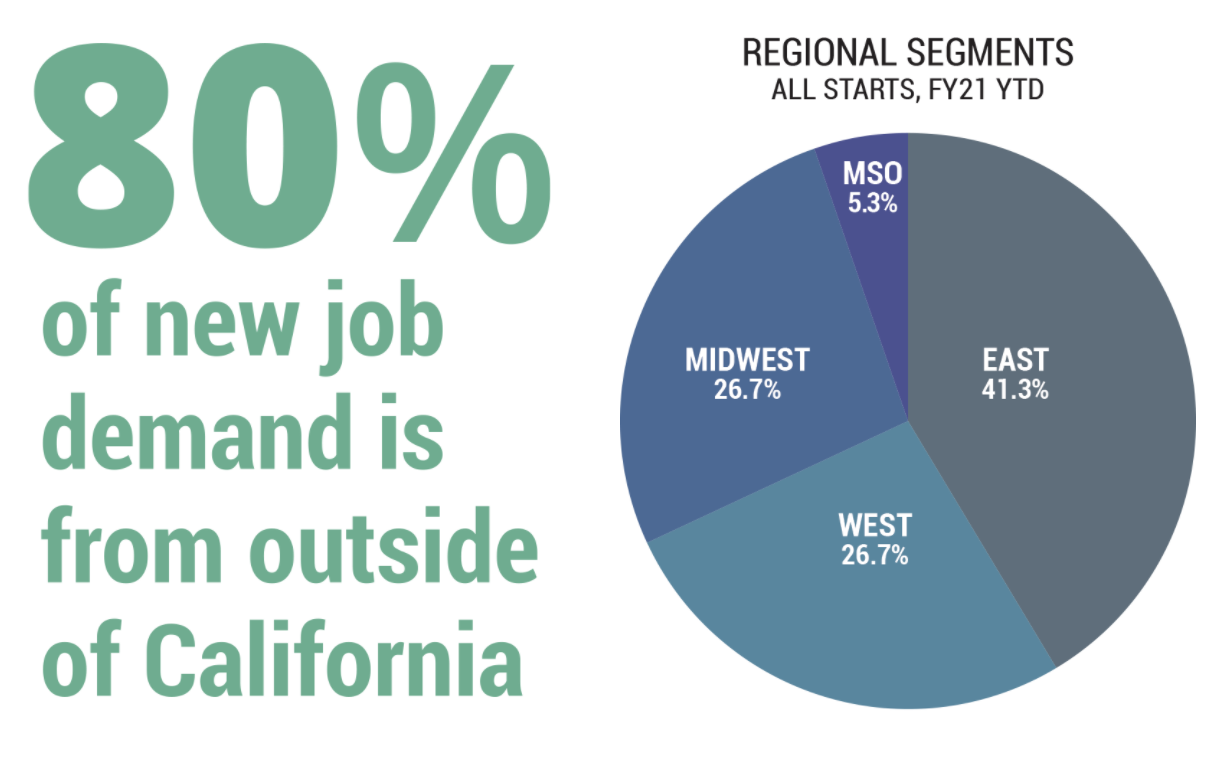 In 2020, 50% of our business was west of the Mississippi and 50% was east. This year, 68% of the people we placed have been east of the Mississippi.
California has always been the leader in cannabis job placements at FlowerHire. But in 2021, cannabis job growth has grown much more rapidly in other areas of the country, surpassing the rate of job growth in California. While California continues to grow and remains the largest cannabis market on the planet, the most significant changes have been happening elsewhere.
Now, let's take a look at the year-over-year cannabis job growth across different states from 2020 to 2021: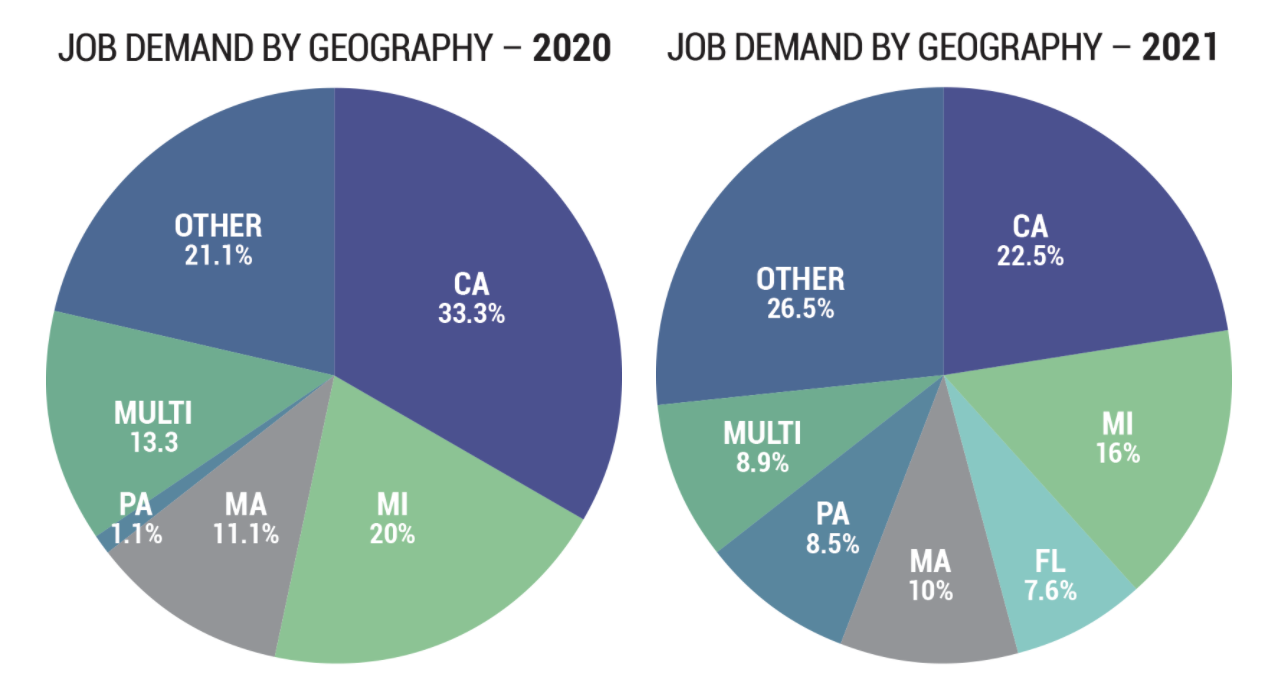 The most significant change from 2020 to 2021, is that other state markets became a significant part of our total demand. The biggest change you see from the 2020 and 2021 pie charts is with Pennsylvania and Florida.
Note: "MULTI" means the person is either based in multiple states, or they're traveling to different sites across multiple states. "OTHER" represents the other states we're in but they don't make up the majority of where we place candidates.
Florida
Cannabis job growth in Florida came out of nowhere. In 2020, we had no placed jobs in Florida. But in 2021, 7.5% of placements have been in Florida. In 2020, Curaleaf, Trulieve, and Liberty Health were the leaders in Florida. In 2021, there's been a lot more expansion from other license holders as they get off the ground and open up assets, leading to an increase in job growth (1).
Pennsylvania
Pennsylvania took off in 2021. In 2020, 1.1% of our job placements were in Pennsylvania. In 2021, that number jumped to 8.5%. The forces of consolidation have been at play in terms of mergers and acquisitions (2). We're looking at a lot of mergers and acquisitions as well as investments from people who believe in Pennsylvania's medical cannabis program.
Massachusetts and Michigan
Cannabis job growth in Massachusetts and Michigan has maintained remarkably consistent.  Job creation, new facilities opening up, investment in new retail locations, and investment in cultivations have all contributed to the steady market growth.
Other states
In 2020, we were supporting job placements in 11 different markets. In 2021, we are placing in 14 different markets. This shows that legalization is spreading nationwide and gaining traction leading to more emerging cannabis job markets.
Cannabis job growth in medical markets
There are two types of medical markets:
States that limit the types of products that can be sold. For example, in some states, you can't buy smokeable flower

–

or there are potency limitations.

Other medical policies are opening the door for sorely needed medical treatments (and the beginning of collecting medical data) by respecting even as there is much to still learn,  cannabis is medicine. Those states have a larger qualifying list of why medical patients can access cannabis.
In Pennsylvania and Florida, more conditions qualify you for a medical marijuana card. For example, in both Florida and Pennsylvania, the qualifying conditions range from anxiety to terminal illness – there are no THC limits and smokeable flower is allowed (3, 4). Whereas a state like Texas has more limited qualifications for a medical marijuana card. There are limitations on the percentage of THC legally allowed in products – smokable flower is not allowed (5).
Florida and Pennsylvania are examples of states with both a large population and a game-changing medical cannabis program. They're supporting the growth of this industry with their carefully considered medical regulations. This is why they're seeing the rate of job growth they are. Which makes us believe that full legalization in these states is on the horizon.
Key takeaways
Overall, further cannabis industry investment continues.

New states coming on board are contributing to the growth of the industry.

Job growth is not just in recreational markets. It's in medical markets as well. More emerging markets are gaining traction.
Reach out to FlowerHire's leading
cannabis recruiters
to hire top talent for your growing cannabis company.
Resources: