New York legalization is rapidly moving the United States forward. And it will cause a shift in the global positioning on cannabis.
Where New York goes, the world goes. In many ways, New York is at the epicenter of the cannabis movement. And will lead the next phase of cannabis, more than anywhere. 
California's Prop 215, the Compassionate Use Act of 1996, was the catalyst in pushing states to take a stand. And now, New York's Senate Bill S854A, The Marijuana Regulation and Taxation Act, is a massive step that will push federal legalization… and then the global positioning of cannabis.
Historically, New York City has created some of the strongest brands in the world. And is the center for worldwide business… The brands from the 50s and 60s that permeated American culture – like Mustang, Tide, and Coca-Cola – came into consumers' hearts via New York City's Madison Avenue. And still, today, people are willing to pay twice as much for these trusted brands. 
Yes, some of the biggest cannabis brands will be born in California… But don't doubt that many will be commercialized and polished in New York City. 
New York will lead the cannabis industry. And New York's Senate Bill S854A, Marihuana Regulation and Taxation Act (MRTA), is laying the foundation for the future of the cannabis industry.
How does social equity fit into New York's legalization bill?
The Black Lives Matter movement led to the most progressive movement across criminal justice reform in citizen civil rights since the Civil Rights Movement 50 years ago. And it was a major tipping point for the conversation about the War on Drugs and cannabis legalization. 

With New York being at the forefront of progressive activism, the Black Lives Matter movement had a huge impact on what the Marihuana Regulation and Taxation Act (MRTA) looks like.
The cannabis jobs economy with the MRTA is much more diverse than the cannabis job economy that would have been created under Cuomo's New York legalization bill.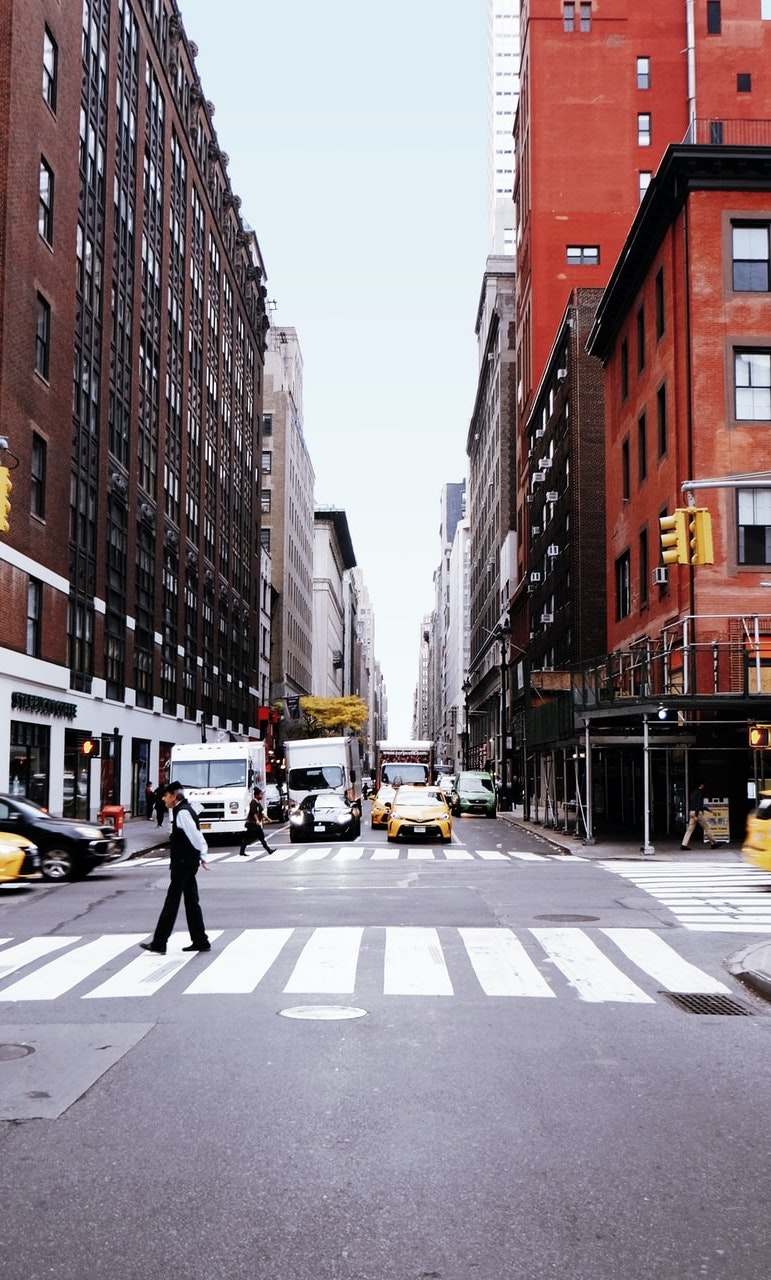 What are the social equity requirements for licenses with New York legalization?
The exact regulation requirements are expected to launch in Q1 of 2022. The bill mandates that 50% of the license holders and a certain percentage of employees represent:
People from communities negatively impacted by the war on drugs

Legacy industry operators

Women

LGBTQ+

And other marginalized groups

This is a huge social equity element that dictates who will get licenses, who they will hire, and what neighborhoods businesses can be in. 
A goal is to help transition people who were working in the illegal market over to NY's legal market. This is an experiment that hasn't been done yet on a wide scale — especially in a locale with over 10 million people, like NYC.
Questions that still need to be answered: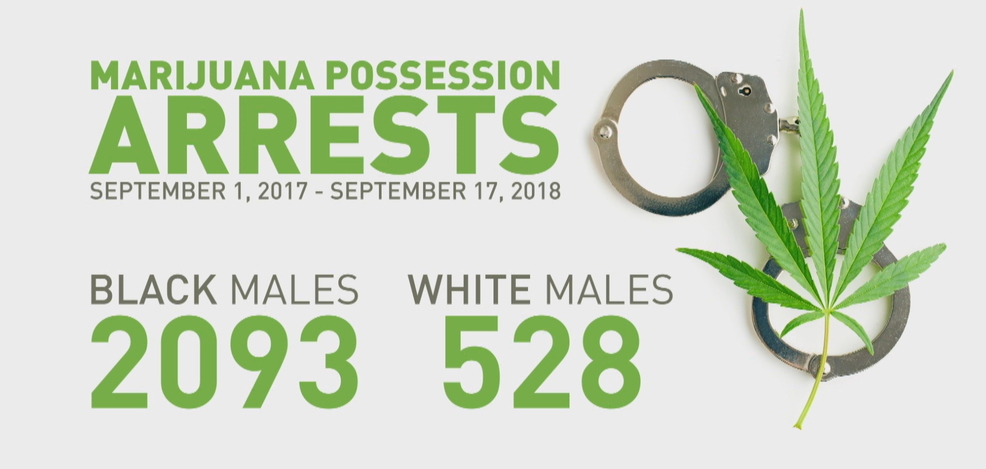 How long will the expungement processes take? And how do you educate and train both companies and workers on how to interact with people who carry the social stigmas from interaction with the criminal justice system?
This demands collaboration from people of vastly differing points of view and experience.
Many formerly incarcerated people need basic skills to help ensure their success in the workplace. Community-based organizations and advocacy efforts like STRIVE are hard at work to assist.
From a business perspective, how do you support a rural agricultural company in overcoming distorted perceptions – and sometimes institutional racism – when employing a person of a different cultural background, or an individual who's been formerly incarcerated? 
The bill protects social equity applicants, but assimilating such varied cultures — corporate business (including small business owners) and formerly incarcerated — can be very challenging… But cannabis is uniquely positioned to assimilate these two crowds well because we all have a common thread — the plant. 
The plant is non-discriminatory. All mammals have an endocannabinoid system. Personally, I have met people in cannabis from a very different background from me, and we can always find a connection because of the plant. So, I believe the plant is what will make New York's social equity initiative work.
Implementing New York's social equity initiative requires an infrastructure to be built, to empower, and to educate both organizations and people who have been through the criminal justice system.
How will New York legalization produce cannabis jobs in NY?

In New York State, there will be about 4.5 million square feet of canopy — space to grow cannabis. There are projected to be 750 retail licenses. And hundreds of cultivation licenses.
With cultivation licenses, the industrial zones outside of New York City with old warehouses will likely be converted into LED environmentally-friendly cannabis cultivation sites. Similar to how Columbia Care purchased a 34-acre cultivation site on Long Island, New York — not far outside New York City (1). And nearly a thousand NYC rooftop farms, like the legendary Brooklyn Grange, are sure to be innovating in urban cannabis production.
This has the potential to grow into a local food and cannabis economy that pays for itself very quickly. And also employs agricultural and light industrial workers. 

This will affect New York more broadly. Impacting places like the Hudson Valley, the Finger Lakes, the Adirondacks, and the Catskills. These are all areas that will create increased agricultural tourism and new experiences… driving more people to these areas.
The cannabis industry aside, these areas are becoming more popular for people to live in now that remote working is more normalized. The addition of the cannabis industry to these areas will only amplify the attraction.
All of this means 40-60 thousand jobs will be created. Or about 10,000 new jobs per year. So, in New York, we can expect that 30 to 40 thousand people per year will be affected by a full-time or part-time job in the cannabis industry. Or they'll be affected by ancillary support positions, from compliance to delivery services, tech, accounting, marketing, and more.
Ancillary businesses based in New York:
How will Wall Street play into New York legalization?

Wall Street is currently a huge X factor in the NY cannabis market because they have not really played in the game yet. Companies like Ascend Wellness Holdings are meeting in NYC and strategizing when they will be able to go public on the New York Stock Exchange and the Nasdaq, instead of only in Canada… (certainly bolstered after their recent impressive gains in the Canadian stock market (TSX)).
Wall Street is not going to let this commerce happen in their backyard and then not invest because it's federally illegal. The amount of clout that Wall Street has will either force the federal government to legalize, or they will just start investing. Ascend Wellness Holdings had its IPO on the Canadian exchanges, and they released their S-1 in preparation for a listing on the U.S. exchanges (5).
10 current license holders in New York State:
Once Wall Street is on board… the industry will only catapult faster and social consumption will quickly become normalized.
Cannabis social consumption in legal New York
From The Manhattan to Long Island Ice Tea, alcohol consumption has a colorful history in NY… Long before and even during the prohibition speakeasies. And many NYC activities are centered around drinking. Even before bars, restaurants, and brunch spots that survived the pandemic started reopening, New Yorkers were regularly spotted enjoying socially distanced rooftop, front-stoop, and picnic toasts.
Given the compact nature of New York City, people may tend to visualize social consumption as people hitting joints or hotboxing a room. But this is not going to be what social consumption in NYC will look like… 
Smoking cannabis is legal in any place you can smoke tobacco (4).  There will be lounges where you can smoke… But it's not going to be exclusively limited to that. Music venues are not going to be hot-boxed… just as cigarettes can not be smoked inside. Instead, there may be a pop-up sales license for an event. Or venues may bring in a local dispensary to sell retail cannabis. 

Social consumption will include a lot of infused food, THC beverages, and art, music, and other cultural experiences. So it's not a big change for most people. People want to alter their (New York) state of mind. And they will still do that. Food, drinks-in-hand, and art and music experiences are already central to NYC commerce and will continue to be with cannabis.
This will be great for local businesses because it will draw a new customer base, and help impact the decimated NYC tourist industry. And it will be great for society to have an alternative to alcohol. Hospitality workers and front-line employees will be in huge demand… But they'll all have to learn and be educated about the nuances of the plant and consumption. There will be major education and advocation opportunities.
Unanswered questions: 
Can you serve alcohol with cannabis? And would you even want to serve alcohol with cannabis? 
There will likely be a lot of people trying cannabis for the first time. These people may not know their tolerance and how their bodies will react. So trying cannabis for the first time when your having a typical night out in NYC may not be the best idea… How will places of hospitality manage the mixing of alcohol and cannabis? Staff, like much of the public, needs to be educated.

Legal cannabis delivery in New York
Delivery isn't always something that's addressed head-on at the beginning of legalization. It tends to be a free-for-all. But New York has built a robust delivery program into the regulations.
Delivery is the cheapest way to get into the industry — you literally just need to start delivering goods. But in New York, it's a huge logistical challenge. And offers opportunities for companies like Uber, Lyft, and perhaps even one of the existing NYC delivery services like King of New York Cannabis or Jumpin Jack Flash.
Delivery will employ thousands of people in NYC. Delivery is how everyone gets their cannabis now in NYC since there are no dispensaries. You don't go to your drug dealer's apartment… your dealer comes to you and drives his or her bike all over the city. 
Unanswered question: 
Should there be a limit to prevent companies like Uber from taking over cannabis delivery?
Cannabis jobs in New York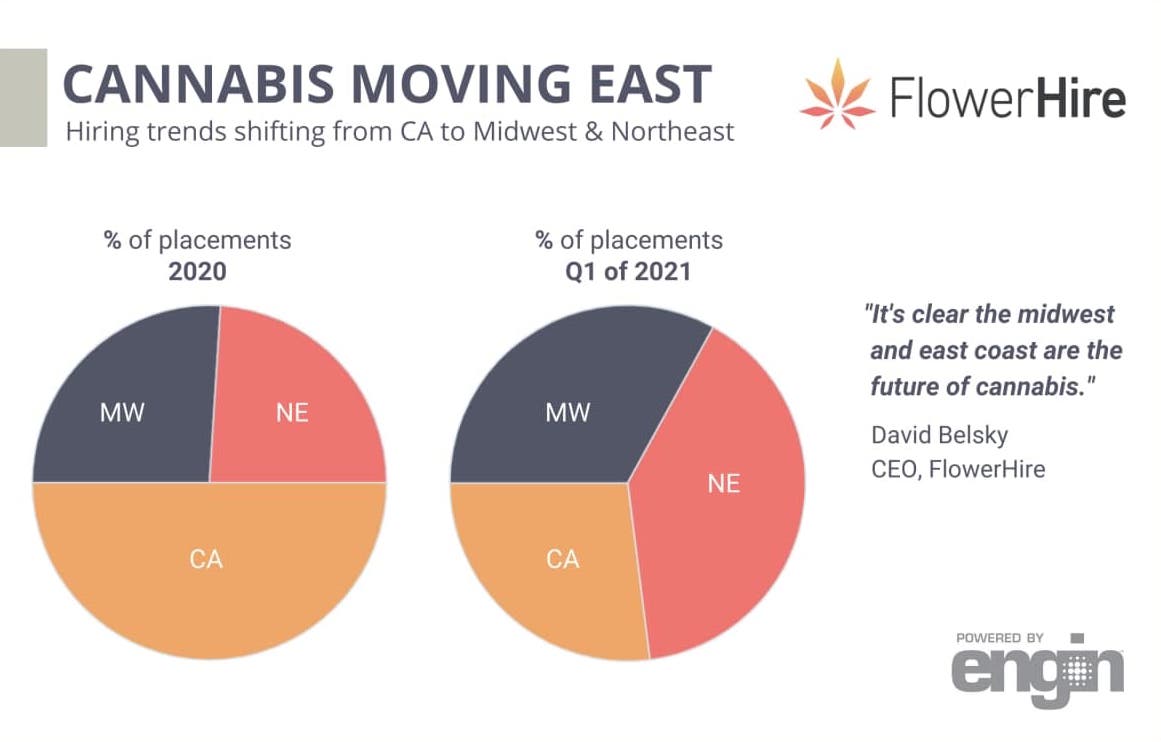 The job market has been a mad dash ever since New York legalization. The Northeast made up 40% of cannabis job placements in the first quarter of 2021 (2). Compare that with the Northeast making up 24% of cannabis job placements in 2020… That's a big jump.
And since there's no existing infrastructure for regulated cannabis employment, this trend will only continue. The East Coast needs to build an equitable pipeline of local talent that's trained and prepared, while also importing experienced talent from elsewhere (2).
New York legalization is rapidly moving The United States forward. And it will cause a shift in the global positioning on cannabis.
If you're looking to build a team or find a cannabis job in New York…
Reach out to the FlowerHire team and we'll find a person or team that's a fit in both skills and culture.
-sb
Chief Revenue Officer at FlowerHire
Founder & CEO at engin sciences inc.