Against the backdrop of the Chicago skyline on the last day of Benzinga, the premiere cannabis capital conference, almost 300 cannabis executives attended FlowerHire's Elevate event. The evening celebrated the launch of Cloud 9 Cannabis. The city was brimming with energy as the evening boasted a perfect 70 degrees. Attendees toasted champagne, enjoyed infused goodies, and marveled at the Windy City, as we cruised the waterways by the Manhattan 66.
When hosting events, FlowerHire's goal is to create memorable and impactful experiences. We put much consideration into both the atmosphere – and the guest list. We carefully curate the invitees to represent a diverse roster of advocates, tastemakers, and thought leaders throughout every facet of the industry. Combining the right people with the right vibe facilitates true connection and meaningful industry conversations. 
Thank you to our sponsors 1906 New Highs, CannaDevices, PharmaCann, Cann, and Paragon for helping us host an unforgettable evening. 
In addition to our traditional info-driven event marketing, we use two indispensable tools  that are core in marketers' toolkits: 
Brand activation

intends to create a connection between consumers and a brand, "activating" associations that create strong bonds, establishing and nurturing trust so consumers share their positive impressions with others. 

Experiential marketing

initiates activities and experiences to forge memories in an immersive connection point. Like on a yacht – with guests involved in physical, engaging interactions, and memorable exchanges.
One measure of our event's success is exposure in social media, blogs, and word-of-mouth.
What our attendees had to say: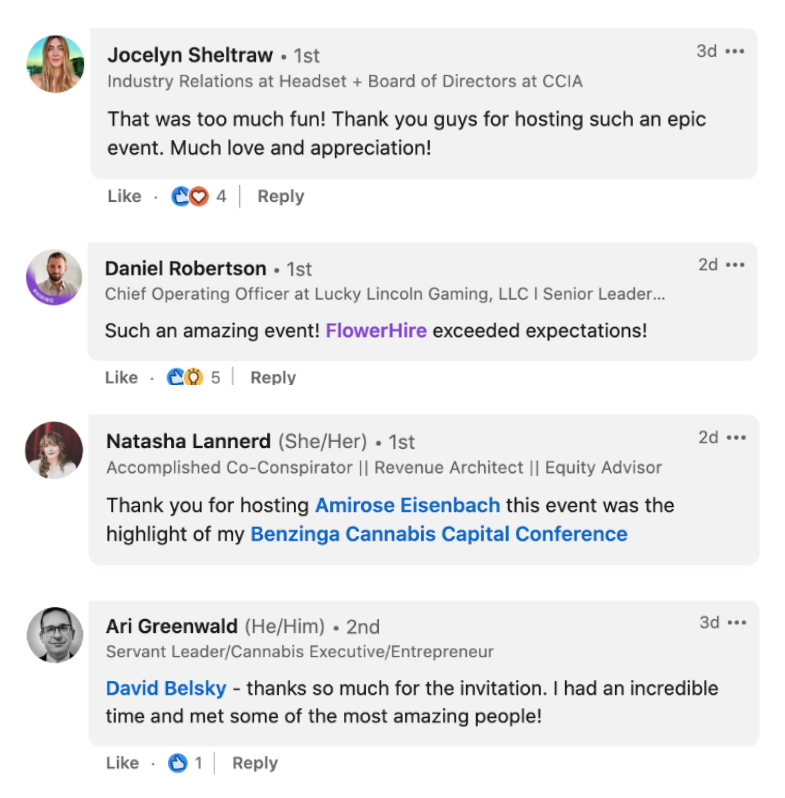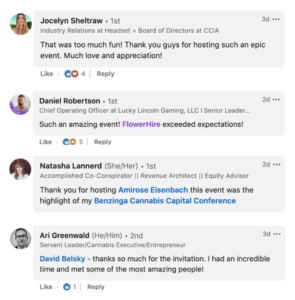 Ryan Cron, Strategic Advisor and Co-founder of JC Rad and Cronja Culture
Ryan said the event brought new business. "Elevate Chicago was an amazing experience and opportunity to make valuable connections with other professionals in the industry. My business partner Bryant and I met new potential customers, partners, investors, and even caught up with longtime industry friends all in one beautiful boat ride! The last couple weeks we have been following up and having meetings with the folks we met at the event and are actively moving forward with new business. I also appreciate that FlowerHire is working with local minority cannabis entrepreneurs like Chef Manny Mendoza from Herbal Notes. The food was incredible!"
Judson Hill, founder of Flying High Consulting
Judson said "On the boat in Chicago I reconnected with both old friends from California and new license winners in Illinois. Both conversations from the event have led to new projects for my recently launched business, Flying High Consulting!"
Pasquale Iannino
, FlowerHire Midwest Regional Director
Pasquale was very pleased. "It was motivating to celebrate industry wins with like-minded professionals. Celebrating the community and how hard we've worked to get here provides the inspiration we need to keep going." Pasquale added, "The cruise offered a great time to connect with new and old faces and a reminder of the resources we have around us. It was instrumental for new Illinois license holders and operators because it introduced them to a wide network they can learn from."
Combining the best of brand activation and experiential marketing, FlowerHire's goal is to inspire the sharing of positive experiences among colleagues, peers, and audiences within their sphere of influence – amplifying powerful impressions of our partner brand products and services.
UPCOMING FLOWERHIRE EVENTS
Next up, FlowerHire is producing: 
A soiree in Boston, MA on November 3, 2022

An experiential activation in Las Vegas, NV on November 17, during MJ Biz Con
If you're interested in partnering with FlowerHire, please contact our Head of Events, Amirose Eisenbach:
amirose@flowerhire.com
Photos courtesy of Jake Langlie
Save your spot for our next event!