On Tuesday, October 10, FlowerHire produced our second annual Blowin' Smoke event in Detroit for our beloved cannabis community. Hot Box Social, Michigan's first cannabis consumption lounge, was the perfect venue for the electric affair. Over 250 industry professionals attended from different verticals throughout the state and country. The good vibes were flowing, and we were reminded – yet again – just how special this community is.
What we pride ourselves on most is getting the right people in the room and curating every aspect, down to the last detail, to ensure attendees are well nourished and taken care of. We featured local artisanal chefs Relish for a tasting menu that boasted delectable items like rosemary chicken sliders and spicy mango mules. We brought back our favorite DJ Alcide, who spun hip-hop classics and blew the roof off the joint. 
We couldn't have done this without the support of our premiere partners, USI and greenleaf HR! Shout out to PuffCo and 710 Labs for hosting a solventless dab bar of dreams, and Six Labs, Highly Casual and Lion Labs for keeping things elevated with their fantastic products.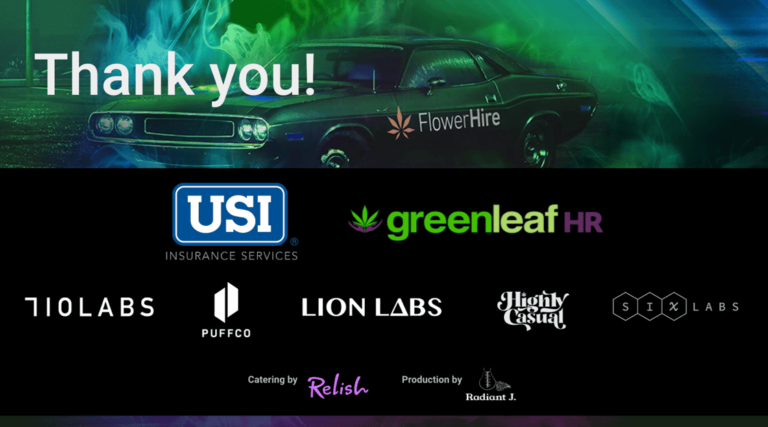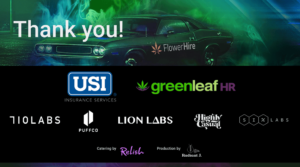 What attendees had to say: 
"A great way to wind down after a busy day at the convention. I liked the free flowing collaborative nature of the event; great people, felt very inclusive."
– Leah Haselhorst, Head of Marketing at Seed Talent 
 "Thanks to FlowerHire first for hooking me with my current job and second for an off the hook event at Hot Box Social. Way to rock Detroit!"
– Kevin Cleary,  National Sales Director at PTS Corp. 
"I had a great time at the FlowerHire event. I met a lot of friends and got to disperse our products amongst awesome people, both from a brand perspective and also from a partnership perspective."
– Chris Klamkin, CEO at butter cannabis co.
"Sponsoring FlowerHire's 'Blowin' Smoke' roundup for MJ Unpacked Detroit was a true honor.  As the manufacturers of the Highly Casual infused beverages, we took great pleasure in seeing attendees enjoy these tasty seltzers while experiencing the top-tier vibes the FlowerHire team always curates. Can't wait for MJ Biz Con!"
– Jerome Crawford, Chief Legal Officer at Pleasantrees 
Next up…
Fear not; the fun won't stop for too long. FlowerHire's second annual Smoke and Magic is back during MJBizCon on November 28! Want to collaborate or sponsor? Hit up Amirose (amirose@flowerhire.com) and Radiant J, our event partner, and let's create another memorable event together! 
Save your spot for our next event!