Contributing content from Bethan Jenkins
Asian American and Pacific Islander Heritage Month (AAPI) honors the ways AAPI groups have shaped our country through diverse languages, religions, and cultural traditions. AAPI is one of the fastest-growing racial groups across the nation – climbing 27% from 2011 to 2021.
May was chosen to be AAPI Month for two reasons: 
The first Japanese immigrant was a 14-year-old boy known as "Manjiro." He arrived on US soil by whaling ship on May 7, 1843. 

Golden Spike Day acknowledges the laborious efforts of Chinese workers upon the completion of the transcontinental railroad on May 10, 1869.
The first national proclamation honoring AAPI citizens was in 1977. It was introduced by Senator Daniel Inouye – the highest-ranking Asian-American politician in US history, until Kamala Harris became vice president in 2021. 
After the signing of Proclamation 8369, President Obama wrote, "During Asian American and Pacific Islander Heritage Month, we remember the challenges and celebrate the achievements that define our history." The AAPI community has impacted everything from atomic science and civil rights to food and farm work. The cannabis industry is no exception: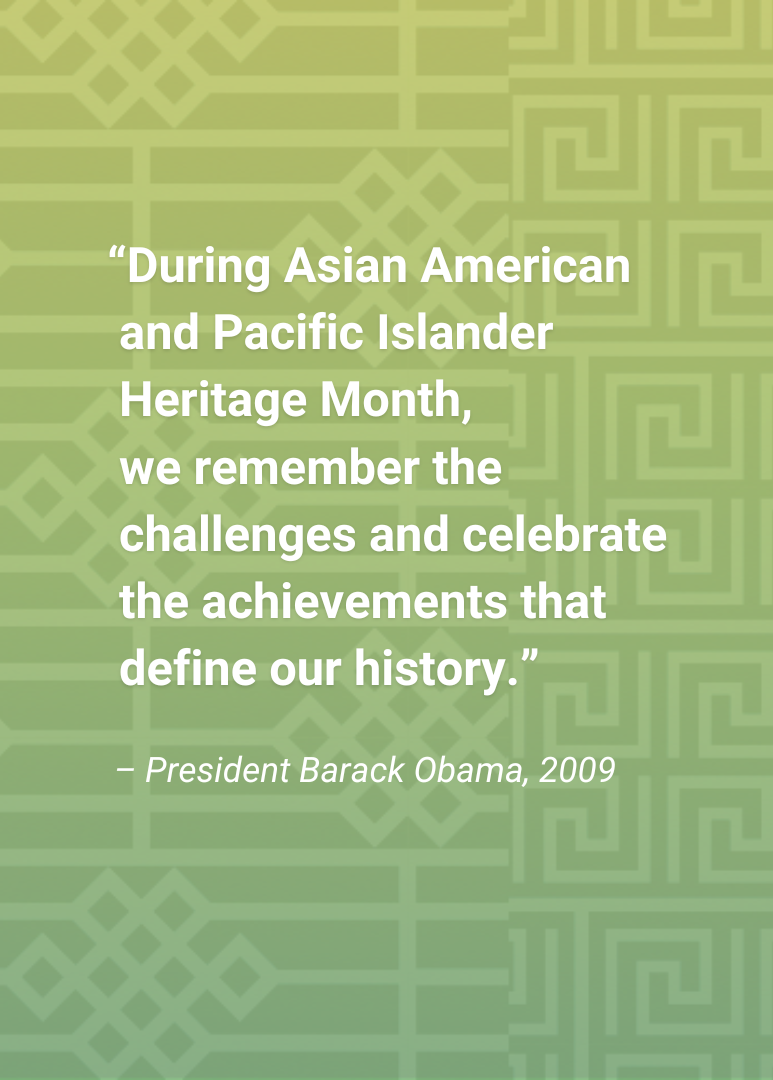 Cannabis is a plant with roots tracing back to Central Asia and traditional Asian medicines. The roots of the cannabis plant in Asian culture is the inspiration and foundation for many AAPI founders, including these founders:
7 AAPI founders in cannabis
One of the most well-known brands, STIIIZY was established four years ago by honorably discharged combat veteran James Kim following his 13-month tour in Iraq. Cannabis provided Kim with respite from the symptoms of post-traumatic stress disorder (PTSD). He was compelled to share his positive experience with others through the STIIIZY brand name. STIIIZY is regarded as the best-selling THC concentrate vaporizer company in California.
Two Asian American females, Cynthia Boedihardjo and Jessica Sharp, are the faces behind San Francisco-based Nouera. Identifying as a conscious entertainment company, Nouera curates educational events centered around the plant. Each event features healers, artists, and other cannabis advocates who believe in cannabis' healing properties.
Sundae School's creative director, co-founder, and designer Dae Lim was born and raised in Seoul, South Korea. He immigrated to the U.S. at the age of 10. His company's product range is laden with edibles, starter packs, and smokable goods. Sundae School offers effect-specific "Mochi" gummies and vegan hybrid gummies. They also have hash-infused pre-roll packs labeled "Tinies" and hash-infused pre-roll singles labeled "Mighty." Their smokewear label that recently found its way onto a New York fashion show runway at House of Cannabis museum in SoHo.
Judy Yee, a "cannamom" with family in Japan, is working hard to help people microdose their cannabis with K-Zen beverage products. This brand was co-founded alongside long-time friend and former colleague, Soon Yu. Boasting over 20 years of experience in the health, wellness, food, and beverages industries, Yee felt inspired to launch the parent company in 2019 after dabbling in topicals. She has since developed a range of infused drinks and tonics, including Mad Lilly, with mouth-watering flavors like raspberry hibiscus, ginger pear, and passion fruit mango.
Caroline Yeh's experience in the cannabis industry played a pivotal role in the founding of Tsumo Snacks. After working her way up the ranks at Bloom Farms and Kiva Confections, Yeh used her expertise to create a line of savory, crunchy edibles for the recreational cannabis market. Salty-savory edibles were popular in the medical cannabis market but had been crowded out by the influx of sweets and gummies. Her innovative approach to cannabis-infused snacks has gained widespread recognition, including an early investment from hip-hop legend Snoop Dogg. Together, Yeh and Snoop Dogg launched "Uncle Snoop's Snazzle Os", a line of cannabis-infused onion and spicy onion crispy flavored rings that consumers love.
Nidhi Lucky Handa is an entrepreneur and the brains behind Leune. Leune was founded in 2017 and makes premium, low-dose cannabis products for women. Handa is a former investment banker who saw a need in the industry for consumer-friendly and productive cannabis products. Leune is now among California's hottest cannabis companies. Handa has also been an outspoken supporter of social equity. She seeks to level the playing field for minoritized communities that have been hit harder by the drug war.