Brandon Lamkin started his career in agricultural farming – mostly growing corn and other grains for distilleries. Growing up in the state of Kentucky – a very conservative state and the greatest producer of hemp in the United States during the 19th and 20th centuries, producing three-fourths of U.S. hemp fiber – he was exposed to "bootleg" cannabis growing. This sparked his interest in cannabis from an early age. 
That early interest, plus his experience in agriculture, sparked a desire to work in cannabis. Brandon started farming hemp in 2019. His connections from his childhood, plus his new cannabis industry connections, were instrumental in giving him the knowledge needed for his current position. Today, he's the cannabis farm manager at Skymint Brands.
In our meetings with him, Brandon discussed:
His exposure to growing "bootleg" cannabis sparked his interest in cannabis cultivation.

How his experience in agricultural farming gave him the core skills to farm multiple crops successfully..

How his experience as an AT&T technician both gave him some necessary skills required for a cannabis farm manager role.

How his mentors helped him get to where he is today.
BEFORE CANNABIS
What were you doing before working in cannabis?
I was born and raised in Kentucky. So my early career in agriculture started in central Kentucky. I grew corn, soybeans, wheat, and canola, and started growing hemp in 2014. We grew grain for all the major distilleries like Heaven Hill, Maker's Mark, Buffalo Trace, and Four Roses. I did that for 7 years. 
But then I just got burned out from doing the same thing every day – I didn't feel like I was growing my career. And even though I didn't know exactly what I wanted to do next, I knew I needed a change. So I tried something completely different and started working for AT&T. I found out it wasn't my calling.
What made you switch completely out of agriculture for that time?
After almost eight years farming over 25,000 acres for the grain industry, I was ready to reach out and try something different. A buddy of mine went to AT&T to work as a lineman (climbing telephone poles, hanging aerial cable, installing fiber networking inside businesses & homes). And it intrigued me because of the union benefits. So I chose to change things up and went for it. 
I liked it. And it was easy work with good pay. But it wasn't my calling. It wasn't what I wanted to do long-term. The cannabis industry is exciting and there's so much to learn and a lot of opportunities to grow my career.

What did you learn in your time working as an AT&T lineman?
I learned about data management and how the backend of the internet works. When I went back to farming, that experience helped me with the technology side of farming. In the grain industry, I kept track of the data management on the inputs in the fields. And that all comes into play with cannabis, the regulations, and how everything that needs to be tracked.
At AT&T, I also learned a lot that I have transferred to my current role at Skymint is about how a vertically-integrated company works. Skymint is a vertically integrated company and different from other farms I've worked for – they really know how to run a business. And putting the corporate and farming together is new for me. It's a lot to learn, but Skymint sets a standard and definitely legitimizes the industry.
What drew you to the cannabis industry?
I'm sure you know that Kentucky is super red. But we have a lot of outdoor – or what I call – "bootleg" growers. I was raised around a lot of illegal cannabis growing. That intrigued me about cannabis (and is also where I learned a lot.) 
I got into farming hemp in 2014 while I was working at AT&T. I knew cannabis was where I wanted to be.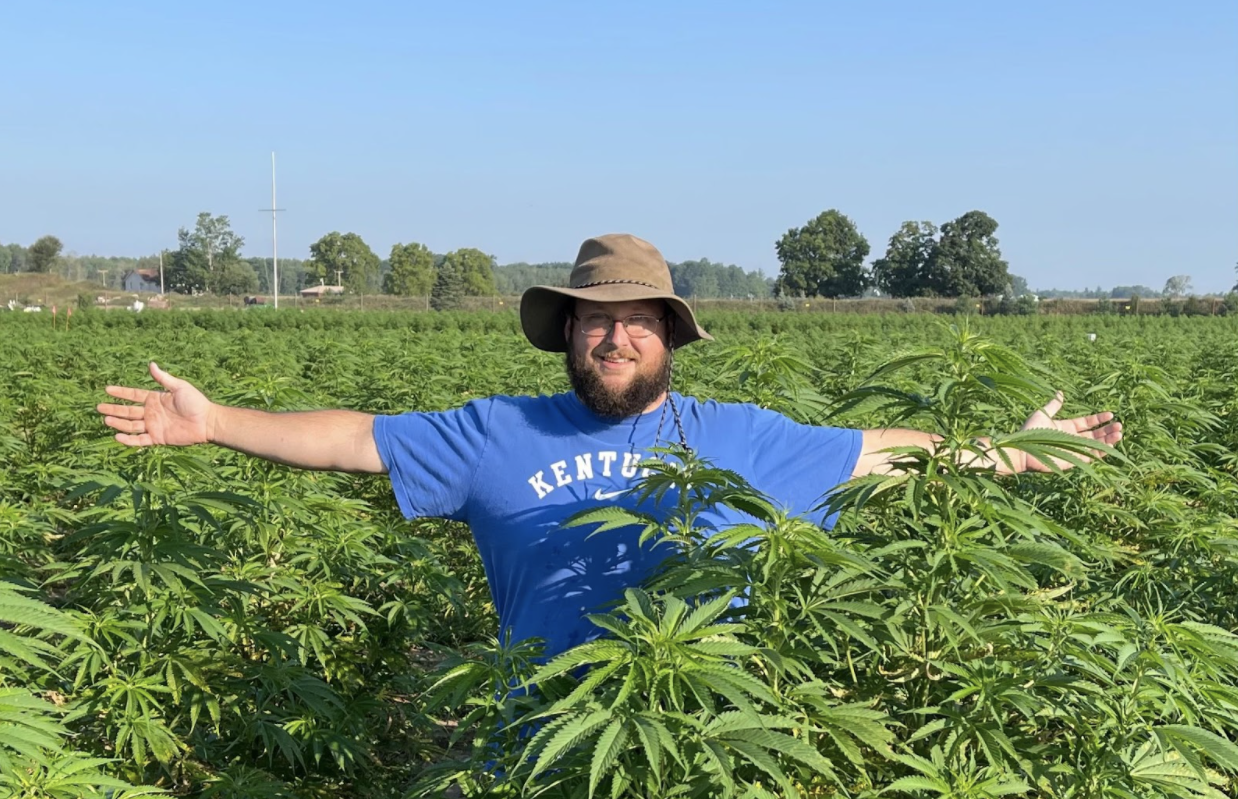 What is an operation leader vs. director of cultivation vs. farm manager?
Operation manager
As the operation leader on the hemp farm (before Farm Manager at Skymint), I took direction from the director, managing daily operations in the field and processing  – I led a crew of around 50. I was planting and spraying along with multiple other hands-on tasks. The focus was the team's daily end goal.
Director of cultivation
When I took the director of cultivation position (before Farm Manager at Skymint), I oversaw an indoor grow but had never grown indoor before. So that was a learning curve for me. I oversaw a 20,000 square foot indoor facility and outdoor cultivation on a 350-acre farm.
Farm manager
As a cannabis farm manager, I manage the entire farm. I manage a larger team and track data to make sure we're in compliance and producing high-quality plants at the rate we need to for Skymint's supply and demand.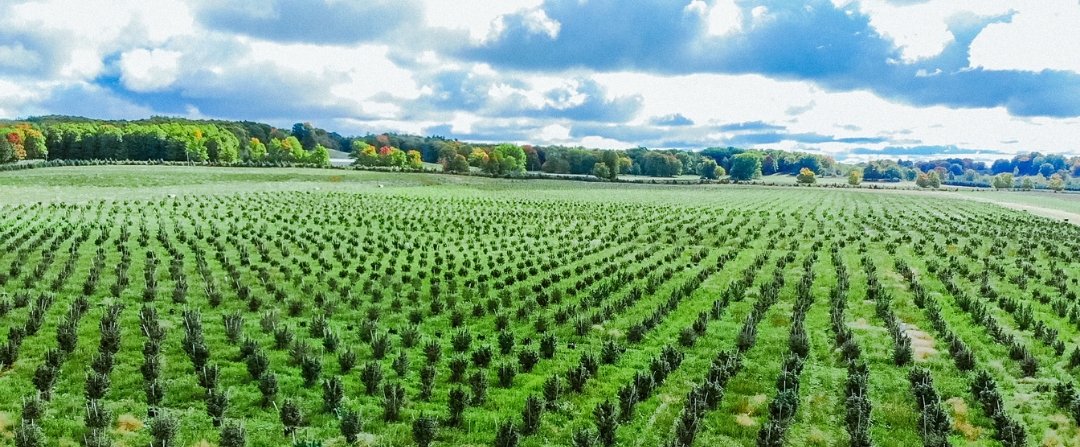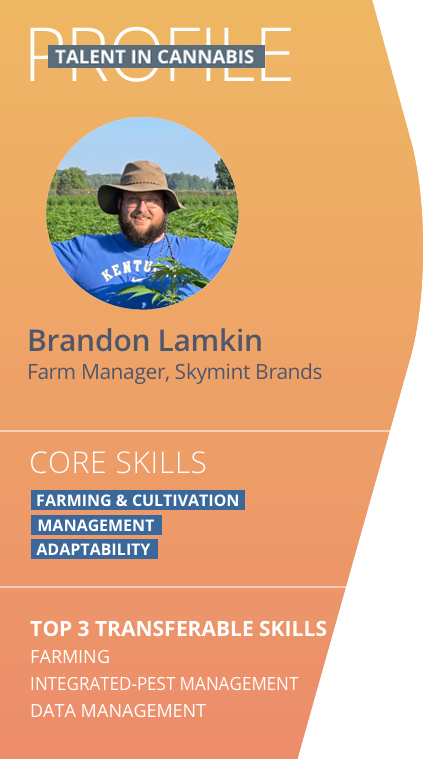 THE TRANSITION
What skills transferred from other agricultural crop farming to hemp farming?
Obviously the cultivation and learning the basics of soil biology – that's important for all farming. When I was farming corn, I took farm management courses through my previous employer. I learned how to manage farms from seasoned veterans of 50+ years. That really helped me with the management aspect. Farming is farming, it doesn't matter what you grow. Once you get the basic principles down, it all kind of falls together.
How do you manage a cannabis farm effectively?
The ability to make decisions and adjust on the fly is critical. Always have a plan set in place. And then always having a backup plan in place because – you know – you can't control mother nature! Mother nature is always throwing us curveballs. So being flexible and able to adjust to whatever mother nature throws at you.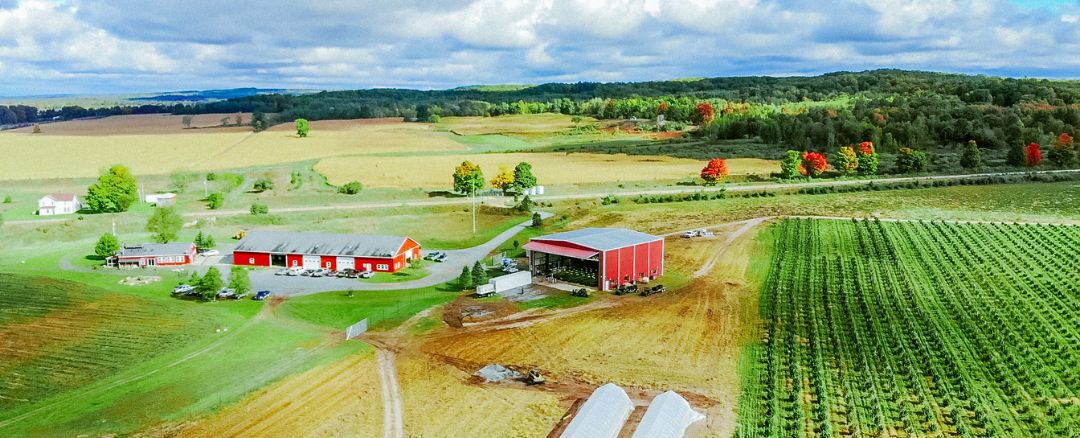 What's the biggest difference between farming grains and cannabis?
I had to educate myself on integrated pest management (IPM) for cannabis versus grains. I had dealt with diseases, insects, and pests with corn, soybeans, and other agricultural crops. But hemp and cannabis are a different breed. Learning IPM for cannabis was a big learning curve. I had to self-educate on IPM and learn the principles of organic farming. I met some great mentors that helped me learn about IPM specific to cannabis.
Where did you find your cannabis farming mentors?
Most of my mentors are the people that I grew up with who were illegally growing in Kentucky for a long time. I was raised around a lot of bootleg growers which is what helped me the most with the basics of cultivating hemp and cannabis. I also met a feller at my first hemp job who taught me a lot about disease and pathogens. And then on Linkedin. During 2020, I connected with a lot more people that year which helped me really branch out and pick up knowledge.
Do you have advice for other people transitioning in the cannabis industry?
Don't go at it thinking you know it all. There is a lot to learn. Listening and learning from others has gotten me far. We're all on the same path to bringing this industry to where it needs to go. We need to help each other out. People that already have the experience are your greatest resource.
Don't sacrifice your quality to bring up your quantity. Always strive to grow the best product.